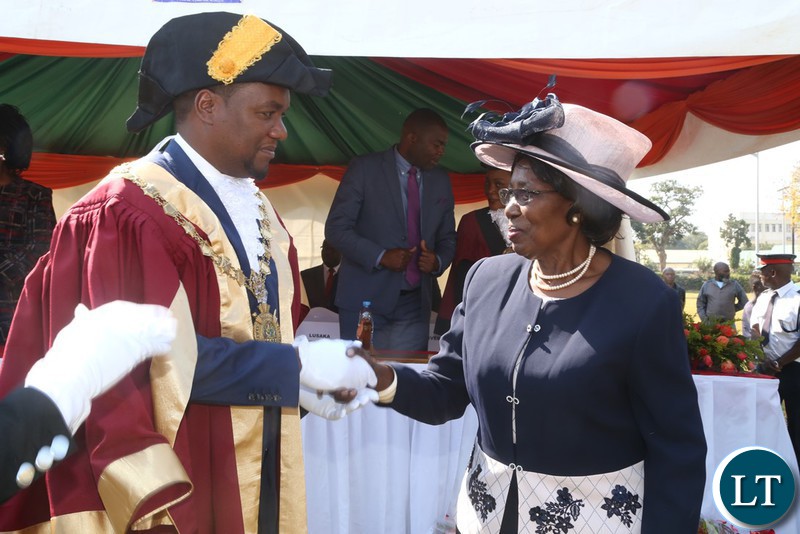 Mr. Sampa took the Oath of Office, which was administered by Lusaka Magistrate David Simusamba at Nakatindi ground within the Civic Centre.
And Vice President Inonge Wina, who witnessed the Installation Ceremony called on Mr. Sampa to come up with income generating activities, that will allow the council to pay its statutory obligations.
The Vice President said Lusaka has the capacity to raise enough money and run its affairs.
Mrs. Wina also urged the Mayor to ensure the demands of the people are meet.
She said Mr. Sampa is hardworking and people in Lusaka will benefit from his experience.
Mrs. Wina said the issue of integrated planning, sanitation and solid waste management should be taken seriously.
Meanwhile, the Vice President has disclosed that Lusaka is one of the fastest growing cities in Africa with the huge challenge of urbanization.
She said there is need for integrated development planning to curtail important issues such as HIV/ AIDS which comes with urbanization.
She explained that Lusaka is one of the initial 13 global cities that is committed to ending HIV/AIDS by the year 2030.
She noted that the City signed the 2014 Paris declaration to fast track the response to ending AIDS by 2030 and achieve the UN-AIDS 90-90-90 global targets by 2020.
And Speaking earlier Lusaka Mayor Miles Sampa urged all stakeholders to ensure that Lusaka is transformed into an economic hub.
He said for the council to provide social services it must be run like a business enterprise through the promotion of public-private partnerships.
Mr. Sampa said the council is in the process of decentralization by establishing Mini-Civic Centers in all the seven constituencies, in line with the government agenda.
He said the devolution process will save residents time and money from moving long distances to come to Civic Centre when they can access these services from within their vicinities.
The Mayor said construction of the Mini-Civic Centers will spur the creation of jobs for most unemployed youths in the city.
[Read 127 times, 1 reads today]