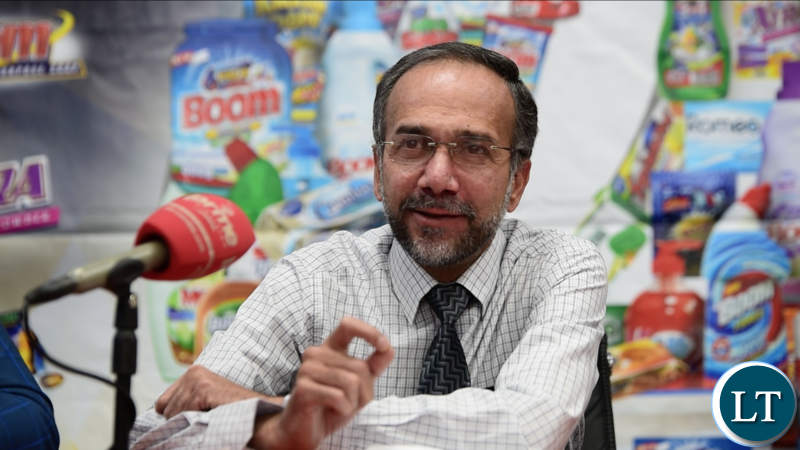 Trade Kings Group is extending its production capacity with a $40 million detergent plant in the Multi Facility Economic Zone.
Trade Kings, the leading FMCG group in Zambia today announced the investment in new $40 million detergent manufacturing facilities to be located in the Multi Economic Facility Zone in Lusaka. The plant will be the largest manufacturing plant for powder detergents and other household products in sub-Saharan Africa.
This investment will address one of the key challenges in the economy – dumping and smuggling of low quality detergents from neighboring markets such as Tanzania. The low price of dumped goods allows imported products to gain unfair market share. It also creates artificial indication of gaps in the market and industry.
"This new facility will enable significant expansion of our production capacity in Zambia and this will contribute to curb malpractices such as dumping" said the Group General Manager, Luximinarayanan Subramaniam''. We are aware the government is in the process of drafting the Trade Remedy Act to protect the domestic industries from the adverse consequences of dumping; this will enhance the Trade Defence Measures in the market place.
Through this investment, we will strengthen our manufacturing division of the group, which in addition to its regular activities is developing applications to address challenges and opportunities. This will in turn contribute to employment creation for the Zambian People.
The detergent manufacturing machines will include systems and equipment used to produce various forms of detergent powders. With the advancement of technology, the manufacturing techniques are continuously evolving and the group as part of its growth strategy has purposed to remain current with the technology to continue producing effective detergents for different cleaning applications.
It will cover a production area of about 30,000 square metres and enable an increase in the tonnage produced.
To authenticate the business being truly Zambian, Trade Kings Group is contributing to the drive of the industrialization policy that is designed to address issues of productive capacity for enterprises to promote the production and consumption of local products. We have responded to the championing of speeding up of industrialization process in the country by his Excellency the President Edgar Chagwa Lungu. We recognise the support both from the Ministry of Commerce and Trade and the Zambia Manufacturing Association. Our commitment to the Proudly Zambian Campaign remains unrivaled as demonstrated by our business strategy.
The Trade Kings Group has in the 20 years of its existence since inception, through its flagship brand BOOM, set a trend of locally produced quality and affordable products. The major variables influencing detergent brand choice in the Zambian market is attitudinal variables such as perception regarding the efficacy (QUALITY) of the brand, closely followed by the perception on the value for-money (PRICE).
The business is confident that the expansion will contribute to Economies of Scale, reduction of production costs that in turn results in lower prices for consumers. The Group states that various economies of scale will be achieved including in technical, specialisation of workforce, marketing, financial and purchasing.
This investment will see Trade Kings Group grow further in the regional market. By 2050, 60 percent of Africa's population will be urbanised. Some of the fastest growing cities, including Dar es Salaam, Kinshasa, Luanda, and Addis Ababa, are in some of Africa's fastest growing economies. Further, we have just commissioned a state of the art detergent factory in Zimbabwe as part of our expansion programme.
There are many other factors working specifically in favour of the emerging fast-moving consumer goods sector in Africa: (1) urbanisation (2) duties and pricing, and (3) local preferences, and (4) branding.
Most importantly, urbanisation is shaping the nature of demand and distribution for soaps and detergents. It is vital to this particular market as most urban consumers are consumers of manufactured soaps and detergents whereas there are still big rural populations that make their own forms of soap from locally available resources. As rural populations decrease and become urbanised, their tastes switch as result of more time dedicated to their work and their changing lifestyles. Trade Kings, with our goal of improving lives, are constantly responding to changes in lifestyles and tastes and our recent launch of BOOM Auto, specifically designed for use in washing machines, is just one such innovation.
[Read 664 times, 1 reads today]