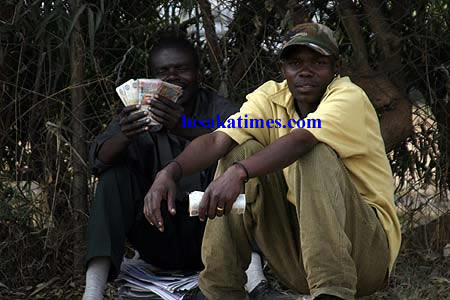 The annual rate of inflation for the month of August 2018 has increased by 0.3 percent from the 7.8 percent recorded in July this year, to 8.1 percent.
This means that on average, prices of goods and services increased by 8.1 percent between August 2017 and August 2018.
Central Statistical Office (CSO) Acting Director Goodson Sinyenga said the increase in inflation was mainly influenced by a rise in prices of both food and non-food items.
Speaking during the monthly bulletin media briefing Mr. Sinyenga listed breakfast mealie meal, Cassava meal, purchase of vehicles and Charcoal as some of the food and non-food items .
Mr. Sinyenga said the annual non food inflation rate for August 2018 was recorded at 8.3% compared to 8.1% recorded in July 2018 which is an increase of 0.2 percentage points.
He says the increase in the annual food inflation Rate is mainly as a result of price changes of breakfast mealie meal and Cassava Meal.
Meanwhile Mr. Sinyenga has revealed that Zambia's trade deficit decreased by 48.8% from K1, 620 Million Kwacha recorded in June 2018 to K829 Million in July 2018.
He says this trade deficit means that the country imported more that it exported in nominal terms.
Mr. Sinyenga said imports decreased by 12.9 percent from 10, 190. 3 Million Kwacha in June 2018 to 8, 877.4 Million Kwacha in July 2018.
[QFM]
[Read 90 times, 1 reads today]