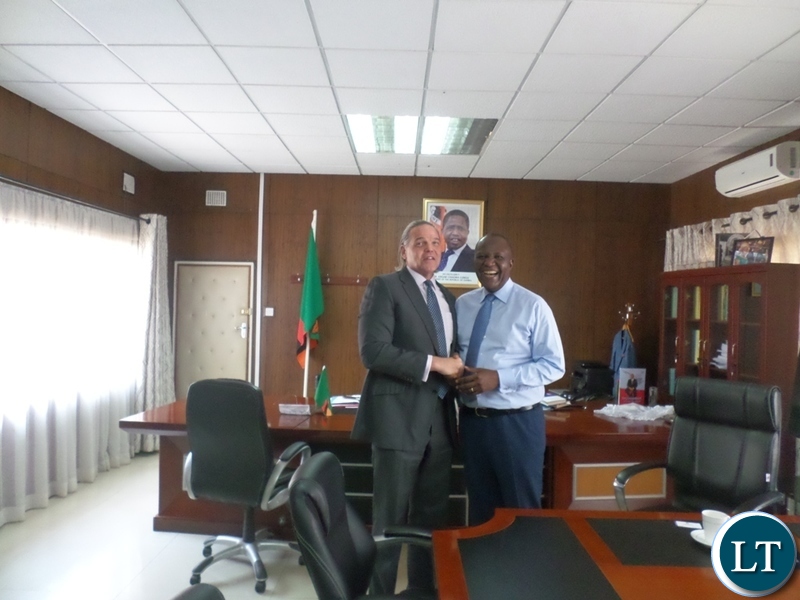 UNITED States of America Ambassador to Zambia Mr. DANIEL FOOTE has applauded Government for the measures put in place in the control of the utilisation of government vehicles.
Mr. FOOTE said this when he paid a courtesy call on Minister of Works and Supply Mr. FELIX MUTATI at the Ministry Headquarters.
He said control of government fleet is commendable and added that under the public affairs department at his embassy, the US Government can help the Ministry strengthen its fleet management programme by having some of the staff exposed to the American system and learn how it is done there.
Mr FOOTE made this offer after Mr. MUTATI informed him that fleet management is one of the major programmes that his Ministry is working on and so far there has been positive compliance at the record of 85 percent as compared to 10 percent when the exercise commenced early this year.
Mr. MUTATI added that Government has been able to save more than K300m since the road blocks started and that the Ministry is now working towards incorporating technology which will further help curb misuse.
He said the main objective of the enhanced controls on the utilisation of government transport is to instil discipline and help government save the finances for other developmental programmes.
Mr. MUTATI further informed Mr. FOOTE that his Ministry is also focused and determined to revamp the Government Printers Department so that it prints not only the 2021 ballot papers but be able to do other works that it used to do in the past.
The other pertinent programme of interest Mr. MUTATI shared with Mr. FOOTE is the redevelopment of waste or idle assets earmarked for the creation of more office space for civil servants.
Mr. MUTATI said government was engaging with the private sector on a private public partnership (PPP) model that will eventually benefit both sides.
He noted that Government would appreciate the presence of the American business community in the redevelopment programme through the PPP programme.
On what the American Embassy in Zambia can do to help the Ministry, Mr. MUTATI pointed out three areas of concern which are, staff training exchange programmes, private sector investment under PPP and strengthening of the government fleet management.
And Mr. FOOTE said his Government is ready to assist the Ministry with the training exchange programmes as well as fleet management.
He also noted that his embassy would consult with the Overseas Private Investment Corporation (OPIC) which is a self–sustaining US Government agency that helps American businesses invest in emerging markets to venture into the Zambian market.
The two leaders further shared views on how the tourism sector can benefit from some American philanthropists such as the head of Amazon and many others.
Mr. FOOTE was accompanied by Chief of Section for Political and Economic Affairs Ms. DOREEN BAILEY while Mr. MUTATI was with Permanent Secretary Ms. AGNESS MUSUNGA and Director Human Resources Mr. WEZI LUKHELE.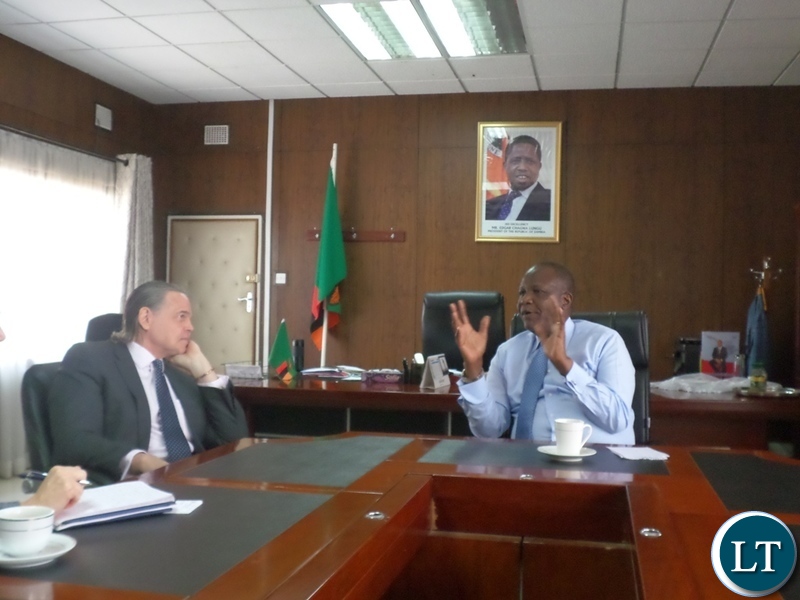 [Read 97 times, 1 reads today]