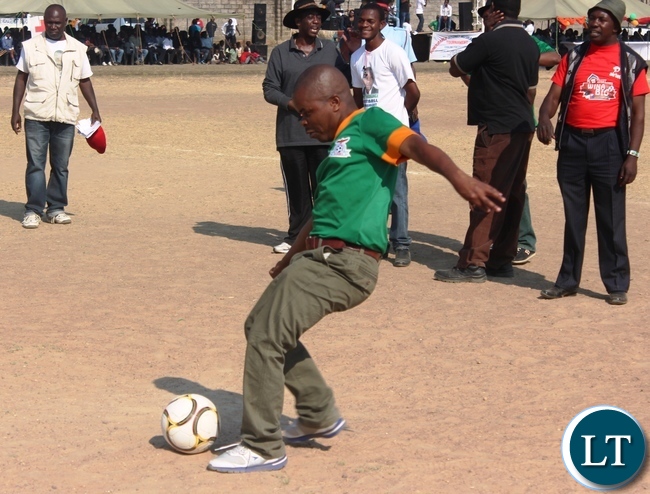 Central Province Minister, Sydney Mushanga, says sports tournaments can be used as vehicle to address various issues affecting communities such as early marriages, child labour, Gender Based Violence and Human Immunodeficiency Virus (HIV) and Acquired Immune Deficiency Syndrome (AIDS) affecting the country.
Mushanga says community sporting tournaments are useful tools to disseminate information on the above issues as well as encouraging local community participation in sports activities in the country.
The Provincial Minister was speaking during a community football tournament in Chinyama Ward of Bwacha Constituency in Kabwe yesterday.
Mushanga has since assured the local people that government will continue supporting sports activities in the community in order to enhance socialization among the people.
And the tournament organizing chairperson, Webster Simwinga, says the Chinyama Community Tournament is part of Honourable Mushanga Initiative Soccer Tournament which is held annually.
Simwinga disclosed that the winning team will be awarded a trophy and a pair of new jerseys while all the participating teams will walk away with a ball each.
Meanwhile, a Chinyama resident Gregory Makungu, has thanked the Provincial Minister for empowering rural youths with a sports activity, saying it will go a long way uniting people in the community.
Makungu has since appealed to the Football Association of Zambia (FAZ) to extended interest in visiting rural tournaments in order to engage rural participation in the national team.
[Read 81 times, 1 reads today]