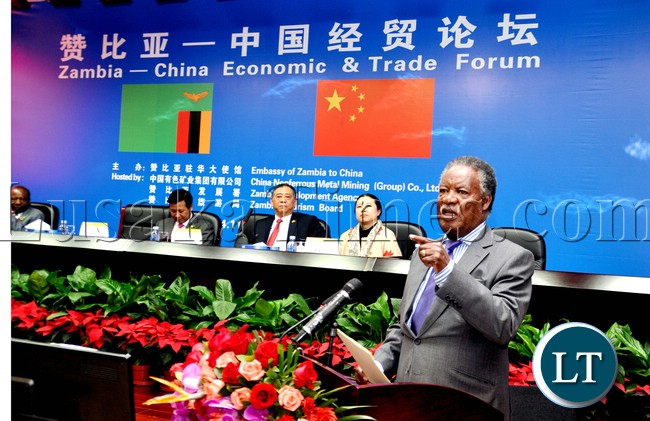 By Kalima Nkonde
There is a severe lack of transparency over many key terms, including repayment, contracting obligations, project feasibility, and value for money and loan security. This lack of transparency makes it impossible to have a clear account of the implications of this borrowing for the public finances.(The Center for Trade Policy and Development report by Trevevor Simumba)
 China will pay more attention to improve Zambian peoples' livelihood and make every Zambian obtain tangible benefits (Chinese Ambassador Li Jie)
It's all about pouring too much money which we cannot afford, we cannot pay and also because we do not need these projects for Malaysia at the moment. We do not want a situation where there is a new version of colonialism happening. China knows that when they lend big sums to a poor country, in the end they may have to take the project for themselves.(Malaysian Prime Minister, Dr.Mahathir Mohammad, after cancelling Chinese $22,5billion loan contracted by his predecessor)
Beijing encourages dependency using opaque contracts, predatory loan practices, and corrupt deals that mire nations in debt and undercut their sovereignty, denying them their long-term, self-sustaining growth. ( Former US Secretary of State Rex Tillerson )
China does not interfere in Africa's internal affairs and does not impose its own will on Africa. What we value is the sharing of development experience and the support we can offer to Africa's national rejuvenation and prosperity.(China's President Xi Jinping)
China has been accused of giving huge loans to Zambia, African countries and other smaller countries around the world for some projects, knowing very well that countries will fail to pay, and forcing countries to give up major concessions. China is said to be using strategic debts to gain political leverage with economically vulnerable countries like Zambia. These loans have been called by critics as predatory loans as they do not follow accepted international standards for lending and are laced with suspicions of graft and neocolonialism by stealth. The Centre for Global Development has referred to these loans as "Debt colonialism" or 'Debt-trap diplomacy".
In Zambia, China has further been accused of inducing the government into many vanity projects without proper feasibility studies to determine their viability by way of acceptable internal rate of return thereby saddling the country with excessive debt, resulting in the country being at risk of debt distress according to IMF. In the light of the negative publicity, both President Lungu and Chinese Ambassador to Zambia had to defend the relationship and the escalating Zambian debt in Parliament and at a Press conference respectively on 14 September, 2015.
China's President Xi Jinping, on the other hand, had also defended the country's investments in Africa, saying they are not for vanity projects. "China does not interfere in Africa's internal affairs and does not impose its own will on Africa. What we value is the sharing of development experience and the support we can offer to Africa's national rejuvenation and prosperity," he said when addressing FOCAC Conference recently in Beijing.
This article provides some practical advice to the Zambian and Chinese governments on the areas they should focus on in Zambia .The measures are expected to have immediate positive impact on ordinary Zambians in terms job creation, foreign exchange, tax revenue etc thereby stem the onslaught of justifiable criticism of the status quo. The outcry by Zambians about Chinese excessive debt is a result of Zambians not seeing any tangible benefits after more than 10 years of massive infrastructure construction boom financed by excessive debt and this is what should be addressed. Surely, there must be something wrong with the prioritization or the current infrastructure mix for it not to trickle down by now. To many Zambians, it seems that development is only happening in the pockets of Politicians, Senior Civil servants and business people connected to the ruling party as there are no jobs, no money but only a myriad of taxes to service loans thus the bitterness. It is a time bomb. The Chinese government through their ambassador – smart as they always are- seems to have realized this and the Ambassador addressed the issue during his press conference by stating that China will change how it handles Zambian cooperation in the future.
"China will pay more attention to improve Zambian peoples' livelihood and make every Zambian obtain tangible benefits of Belt and Road Initiative. In future, practical cooperation between the two countries will be shifted to the construction and operation of industrial parks and transfer of manufacturing industry," Ambassador Li Jie said when addressing a press conference following an onslaught of criticism of Chinese debt to Zambia and allegations of China taking over some of Zambian assets like ZNBC, NRDC, ZESCO and Kenneth Kaunda Airport.
As far back as 2013, China did realize that its relationship with Africa was lopsided and had been criticized but it appears that no practical action has been taken in Zambia's case, as yet. In 2013, The New York Times quoted Chinese President in Dar- es- Salaam, Tanzania while addressing a rally, that China was going to change its strategy.
"China frankly faces up to the new circumstances and new problems in Sino-African relations. We will strengthen mutually beneficial cooperation with African countries in agricultural, manufacturing and other spheres, helping these countries convert their resource advantages into developmental advantages", President Jinping said.
The major criticisms of China in Africa have been as follows : China exporting corruption to Africa and promoting dictators, the lack of transparency in Chinese loans as they are shrouded in secrecy, China choosing projects which are not viable and knowing countries will default, China's infrastructure projects exporting jobs from host countries rather than creating them, China not entering in JVs with host countries companies and not transferring technology, China not been giving loans for agriculture and manufacturing but instead concentrated on roads, bridges, railway systems and airports which will in future facilitate the flow of Chinese goods into Zambia and raw materials from Zambia to China thus not supporting industrialization.
According to Africa Development Bank President, Akinwumi Adesina Adesina, "The issue that I have seen is the asymmetry of power in the negotiations of the transactions, where you are actually giving your mining rights away just because you want to build a superhighway."
Chinese criticism has been led by Western countries and its media. While some of the criticisms are justified, most of them are not, and there is an element of exaggeration and sheer sour grapes by Western countries as some of the claims are not supported by any research. The few studies that have been done by independent experts, have disapproved the majority of the myths. The West is simply jealous of the Chinese and the competition there are providing for investment opportunities in Africa. They are also bitter that they cannot control China's investment strategy as China declined the invitation by the IMF and the World Bank to join the Paris Club which is group of creditors to governments which sets rules for the lenders and debtors alike-basically a cartel for creditors.
The West has never been a friend of Africa and has never been interested in its development but rather wanted o perpetuate dependency, and so their advice to Africa with regard to China needs to be taken with a pinch of salt. The Western media's coverage of Africa has always been negative and the writer experienced this in England first hand in his 30s during the Thatcher and Reagan years of the 1980s.There are, however, some red flags about Chinese cooperation with Zambia and Africa which are valid and we need to be smart and bargain with China with open eyes not forgetting that to every aid, there are strings attached; although Chinese strings may be opaque and not apparent to the naïve and naked eyes, there are still there, but not just documented.
It appears that the recent Forum for Africa – China Cooperation (FOCAC) Conference in Beijing was meant to address some of the criticisms and China cleverly came up with eight initiatives and a $60billion financing package. The eight FOCAC initiatives that China presented which were meant to address some of the issues raised above are: Industrial promotion, Infrastructure, Trade facilitation, Green development, Capacity building, Healthcare, People to People exchange and Peace and Security. What was clearly absent, and which is important from Zambian population perceptive, is the Corruption and Rule of law initiative, Agriculture mechanization initiatives as well as the Clean Energy initiative.
As Zambians, what is important is to recalibrate our relationship with China, take advantage but stop being naïve that China is a "father Christmas" and has no motive to its current lending practices. China is smart and thinks long term, 30 to 50 years, whereas our leaders think in terms of winning the next election. Inasmuch as China may seem to have no agenda, future generations of Chinese may act differently and not be as " kind". Strategic thinking by our leaders is important in dealing with the Chinese.
The first solution for China and Zambia to silence critics is to address the issue of corruption which is suspected in some of the deals as evidenced by the over pricing of projects, choice of projects, secrecy in deals, paupers becoming instant millionaires without having invented etc. China has been criticized for having exported corruption while rooting it out vigorously at home. Chinese President Xi Jinping has made fighting China's rampant corruption a personal mission since he became president in 2012. It has been one of his top priority and it is therefore curious why corruption and rule of law is not one the eight initiatives of FOCAC.The fight against corruption is clearly more important to Zambia in particular, and Africans in general, than People to People exchange, Peace and Security Initiatives which clearly are more in China's interest than Zambia and Africans, given China's ever growing population and its need to exert more power that its population and size demands through the establishment of military bases.
It should be pointed out that the fight against corruption is ideology neutral and if China and President Jinping had put it as one of the initiatives, it would have won him hearts and minds in Africa as it has done for him in China. It would not in any way constitute political interference. Its absence from the eight initiatives enhances critics' view that China is benefiting from it and using it as a tool to access African resources.
In order to put China and President Jinping's fight against corruption in context, it is important to state what the Chinese President has done at home regarding corruption since he took over in 2012.This is to highlight the old saying " What is good for the goose is good for gander", so that we do not have double standards.
According to the BBC report on Jinping's anti corruption crusade, "Judging by the numbers alone, the campaign has achieved impressive results. Astonishingly, the Chinese Communist Party (CCP) has disciplined well over one million officials since Xi took power in 2012. The anti-corruption campaign has snared hundreds of high-level leaders – including, most recently, former Chongqing Communist Party General Secretary and Politburo member Sun Zhengcai. Xi's fight against corruption has made him enormously popular among the Chinese people. Among the biggest names to fall under Mr. Xi's campaign has been Zhou Pyongyang, once the third most senior leader in China, and Bo Xilai, the former party chief of Chongqing who once seemed destined for senior leadership."
If President Lungu was take a leaf out of Jinping's book, by embarking on a corruption crusade with no secret cows, his stock among Zambians will go through the roof. On the other hand, if President Xi Jinping and the Chinese government were to openly address the issue of corruption and rule of law in Zambia as he is doing at home, he will be immensely popular .China should consider making the fight against corruption in Zambia and Africa as a whole, one of the conditions for loans otherwise the perception of Beijing encouraging corruption and being an exporter of corruption will persist. What is good for China should surely be good for Africa.
Second, in order for the PF administration to take full advantage of the initiatives announced by China during FOCAC, it is vital that some of the remaining loans in pipeline are converted to building agriculture sector infrastructure and mechanization of the sector. This will be in line with the 7th National Development plan objectives of economic diversification. The roads, airports, stadiums and railway line financing should be minimized or shelved or be complemented with agriculture.For example, the $2.3 billion Chipata Serenje railway line can wait and part of the money diverted to agriculture infrastructure, like expanding the Nitrogen Chemicals factory to manufacture all sorts of fertilizers including ammonium nitrate or factories were set up for the manufacture of farm equipment like tractors or to building mass irrigation dams etc to boost production of products like soya beans,cotton,wheat, sorghum to export to China . Zambia can then get a small chunk of the $26 billion agriculture exports by USA to China which President Trump has put at risk due to his trade war with China. The positive impact of such investments will be felt within two years.
The importance of Agriculture for Africa has been identified by African Development Bank and one wonders why it is missing among the 8 initiatives. The ADB President, Akinwumi Adesina did make this point when talking to the Dutch government recently.
"The greatest agenda we have is how to unlock Africa's agricultural potential. If Africa can get the right technology to raise productivity, transform its savannahs, turn agriculture into a business and address the issue of nutrition," Said Akinwumi Adesina
Third, China should promote manufacturing especially in the copper mining sector with priority given to the manufacture electric car components like batteries as China is the World Market leader in electric cars since we have copper and cobalt. This is practical and is not rocket science and can easily be implemented.
Fourth, China should bring in investment to transfer clean energy technology such as Solar and Wind energy given that China is market leader in these technologies and consign the crazy dreams of Nuclear energy to the dustbin.
Fifth, in order to promote transparency, Chinese projects should be subjected to normal project management processes and principles by Zambia with its five phases of project initiation where the objectives and feasibility of object is determined, project planning, project execution, project monitoring and control and project closure. This has not been happening on most projects as the RDA report to President Lungu attested in 2015.
"The accelerated method of road construction works exposed the Agency to high risks of cost escalations due to the fact that the real scope, cost and time frame of the projects were unknown. In the absence of adequate project preparation at the planning and design stage and stringent fiscal discipline during project implementation, cost escalation on road projects are bound to increase further," the RDA report stated.
The above steps will have immediate positive impact on ordinary Zambians in terms of job creation, foreign exchange earnings through exports, Tax revenue, providing easily discernable cash flows for loan repayment unlike now where one struggles to see how the infrastructure built will directly generate cash flows to repay loans . The above projects are better value for money and benefit millions of ordinary Zambians than airports, some roads and stadium some of which can wait. One just has to visit Livingstone's Harry Mwaanga Nkumbula airport after 13.00hours to see how underutilized the airport is at the moment and it is similar to Sri Lanka's Mattala airport which was built with Chinese loan and been deemed as the emptiest airport in the World.
In conclusion, if Zambia's current relationship with China and the composition of the project portfolio is not changed, then critics will be emboldened and justified that China is deliberately giving loans for vanity projects knowing that they will not generate revenue and Zambia will not pay and subsequently, China will take over Zambia's assets like it has done to Sri Lanka by acquiring a 99-year lease on the Hambantota port for failure to pay $8billion loan. In Africa, Djibouti has had a Doraleh Multipurpose Port built and run by Chinese company, China Merchants Group (CMG). In addition, the People's Liberation Army Navy (PLAN) has built China's first overseas military base located near the commercial port at Doraleh. This is a clear testimony that China is using its economic influence to advance its security interests and yet it maintains the guise of non-interference.
It should be pointed out, however, that Zambia and Africa needs China but we should be smart about our cooperation by using our best brains regardless of political affiliation, to negotiate deals with China rather than using ruling party cadres, so that we can drive a good bargain. Zambia's relationship with China should never be a partisan issue. In the light of their public statements, the Chinese are ready to offer us good deals but we need to prioritize.
The writer is a Chartered Accountant by profession and a Private Sector Development expert. He is an independent finance and economic commentator/analyst. He has lived in England, South Africa and Botswana for over 25 years.
[Read 155 times, 1 reads today]