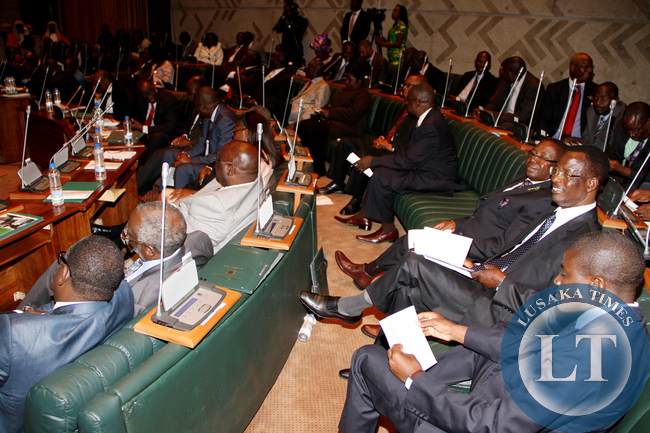 The Center for Trade Policy and Development has wondered why Parliamentarians have not raised concerns in Parliament over delays by Government to commence the distribution of farming inputs under the Farmer Input Support Programme.
The CTPD has questioned what the Members of Parliament whom Zambians pay a lot of money and most of whom come from rural constituencies where farming is the main source of livelihood are doing if such important matters are quiet in their debates.
The Organisation Head of Programmes and Research Brian Mwiinga has since called on government to expedite the process of delivering the agricultural inputs for the 2018/2019 farming season.
Mr. Mwiinga has also demanded for an update from government on how it has addressed the challenges of the e-voucher system experienced last year if at all they have been addressed.
"The Centre for Trade policy and Development has been eagerly waiting to see the flagging off of the distribution of farming inputs under the FISP initiative for the 2018/2019 farming season which is at hand. Signs are clear that sooner rather than later, Zambia will receive the first rains. But what is not clear is when the government will start distributing the inputs". Mr. Mwiinga has said.
He added that the conspicuous silence from the Minister of Agriculture is a something that his Organisation finds disturbing and unacceptable as it has the potential to negatively affect the agricultural sectors performance and compromise the country's food security position.
"We therefore wish to also remind the Minister of Agriculture just in case he has forgotten that agriculture is the main source of livelihood for majority of our people especially in the rural areas. It is also a major contributor to the country's GDP and by far offers the best opportunities for the government's diversification agenda and Poverty reduction efforts". He added.
Mr. Mwiinga said in a statement that at the rate Zambia is moving, a repeat of the disorganised FISP and e-voucher system is more likely this year, a situation which needs to be avoided at all cost.
At the 22nd Southern African Regional Climate Outlook Forum held in Lusaka from August 22nd to 24th, it was revealed that the rainy season in most of SADC countries which includes Zambia would start around October 2018 to March 2019.
[Read 84 times, 1 reads today]