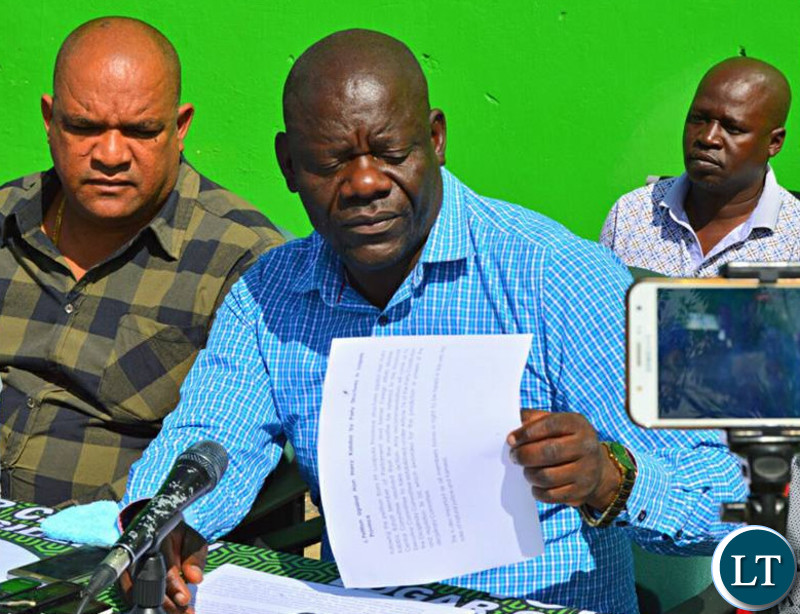 The Patriotic Front (PF) has appealed to opposition political parties in the country to take advantage of the National Day of Prayer and kick start the delayed dialogue process.
PF Secretary General Davies Mwila said it is imperative that political parties come back to the negotiating table to address matters affecting the country.
Mr. Mwila explained that the National Day of Prayer offers all political stakeholders an opportunity to forgive and forget and put the country's interests first.
He said Zambians should come together to pray as a people in order to reconcile and work towards maintaining the peace and unity the country continues to enjoy for the last 54 years.
The PF Secretary General said it is important that all political parties and Zambians participate in the National Day of Prayers which will be commemorated next week on Thursday 18th October.
And the former ruling party, Movement for Multiparty Democracy (MMD) National Secretary, Raphael Nakachinda regretted that politicians have been at the forefront of ridiculing and demeaning the National Day of Prayer due to the insatiable desire to advance political interests.
Mr Nakachinda said the National Day of Prayer gives the country an opportunity to express faith in God and seek divine intervention in the affairs of the nation.
He said there is need to cultivate high levels of maturity for people to pray together and reconcile despite their differences in political philosophies and policies.
He stressed that political stakeholders can use the National Day of Prayer as a stepping stone to revive the national dialogue process.
And when contacted for comment on whether his party would participate in the 2018 National Day of Prayers, opposition United Party for National Development (UPND) Secretary General Stephen Katuka referred all queries to his party's Religious Affairs Chairperson Rev. Kelly Mukonka who was unavailable.
Recently, Minister of National Guidance and Religious Affairs, Godfridah Sumaili warned political parties to refrain from stopping their members from participating in the National Day of Prayers, Fasting, Repentance and Reconciliation because they have no right to do so.
President Edgar Lungu will grace the commemoration of the National Day of Prayer on October 18 in Kabwe while Vice President Inonge Wina will attend the prayers at the National House of Prayer grounds in Lusaka.
[Read 76 times, 1 reads today]