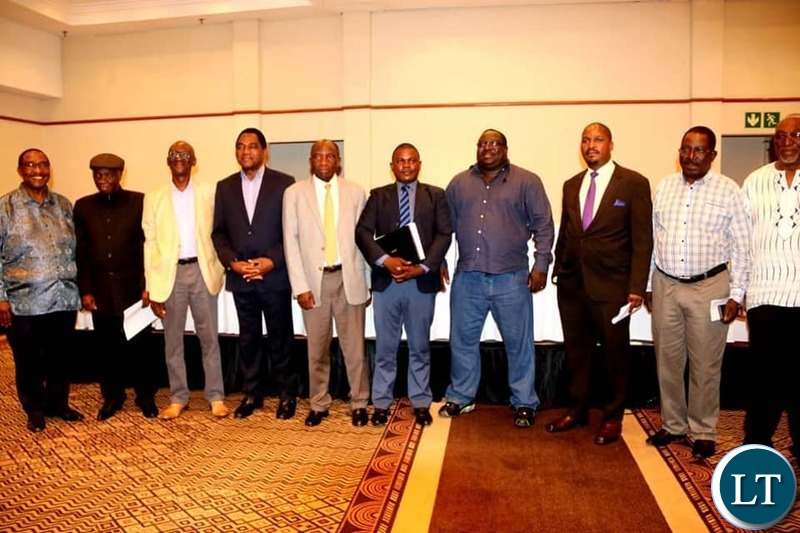 By Sunday Chilufya Chanda
Introduction
The strength of any building lies in its foundation because the main purpose of the foundation is to hold the structure above it and keep it upright.
The strength of any building is therefore as good as its foundation.
Similarly, alliances built on the firm foundation of virtue thrive; but alliances planted on the negativive soil of false pretences wither.
By the same token, an alliance formed by practitioners of bad governance cannot promote good governance just as a glorified coven of tin pot dictators cannot promote democracy.
What good can come out of a union of personality cults wound around the little finger of a master manipulator that has arm-twisted his party's constitution to enable him mislead his part indefinitely?
One Sided Cannibalistic Alliances:
Zambians have watched this clumsy circus act before.
In 2006 three opposition parties comprising the FDD, UNIP and UPND came together to form the United Democratic Alliance (UDA) with a view to floating one Presidential candidate in that year's elections.
Despite being a newcomer and the least experienced politician amongst the heads of the 3 political parties, Hichilema manipulated his way to stand on the UDA ticket in the same manner he manipulated his way to succeed the late Anderson Mazoka as leader of UPND.
UDA with Hichilema misleading the alliance miserably lost the elections of 2006.
The FDD, UNIP and UPND had also at the time entered into a pact and agreed not field parliamentary candidates in constituencies where each particular party was considered to have a stronghold.
It is well documented how FDD was particularly duped by the craftiness and greed of Hichilema as the UPND went on to cannibalise FDD seats and Edith Nawakwi's FDD has to date never recovered from the grievous wound inflicted on them as a result of entering into a cannibalistic alliance with Hakainde who nestled himself at the top of the food chain.
Here is a man who believes he was born to boss everyone and serve none; he always wants to be supported rather than support others. What else can be expected from a megalomaniac with an ego bigger than the sum weight of Chipimo, Mulongoti, Milupi, Tembo et al; even when you throw in the humungous excesive tonnage of Kambwili's inflated ego in the fray?
LEECHING ALLIANCES – THE OUL:
Déjà vu! Hakainde has of late been making manoeuvres to carve a serfdom of opposition parties with himself as feudal lord and the likes of Tembo, Banda, Milupi, Mulongoti and other nondescript wannabes tagging along at his coat tail as serfs.
Their alliance will be called – Opposition United League. (OUL)
Hichilema has wrapped his serfs around his little finger under an acronym which would more appropriately stand for "Outlandish Union of Leeches" rather than what they are calling themselves.
Hakainde's alliances are never symbiotic; they are always parasitic.
The OUL is intended to work out as follows:
In exchange for making him their idol, Hichilema has coaxed Chipimo, Banda, Tembo, and his other desperate hanger-on's and he has promised them Ministerial positions as a reward for their sycophantic homage. (However Tembo, Chipimo and company's open adoration of Hichilema is laboured because they have not changed their long held opinion of Hakainde as a fiend rather than a friend).
Hakainde plans to install Geoffrey Mwamba as Vice President (though grudgingly because many in the so called OUL feel the latter's financial stock has plummeted drastically).
In addition, the "Outlandish Union of Leeches" is bent on changing the constitution to accommodate Kambwili as Prime Minister. However Kambwili's commitment is at best tentative because he has a deep seated loathing of Hakainde and the "Kapoli ni Kapoli" still harbours delusional fantasies of being accepted back in to the ruling party.
According to their outrageous plans, there would be a Deputy Prime Minister which would also go to the "Insultant's" NDC.
Hakainde and his "Outlandish Union of Leeches" intend to install Sylvia Masebo as Secretary General of their farcical alliance.
They intend to unveil these plans between this December and early 2019.
Although they have made overtures with Harry Kalaba, he is stubbornly against joining them because the only thing Hichilema and himself have in common is a generous mutual contempt.
Conclusion
Charity begins at home. What good can come out of the "OUL" that is made up of people that are up to no good; individuals with despotic tendencies within their parties? What good can come out of tyrannical personality cults that do not practice intra-party democracy?
Zambians have watched and yawned through this dull flick so many times; it is the same old movie with the same old actor playing the villain since 2006.
As the pitiful parties of the 'Outlandish Union of Leeches' band together for a pity party "Fiend raiser" this Sunday, 30th December, a charade will be on display; smiling faces with unsmiling hearts will be the order of the evening. The feudal lord patting the backs of his serfs, yet he will not be patting them in a display of affection, but he will be marking a spot to do what he does best to alliance partners- stabbing them in the back!
The serfs will also be smiling; but their teeth will be a mere dental display befitting a fake toothpaste advert; their hearts are not with him.
The Foundations are weak because the relationship is founded on the negative; they are building on quick sand.
Weak foundations- fiends in need; are fiends indeed!
The Author is Patriotic Front Media Director At the Patriotic Front Secretariat Lusaka
[Read 1,717 times, 3 reads today]