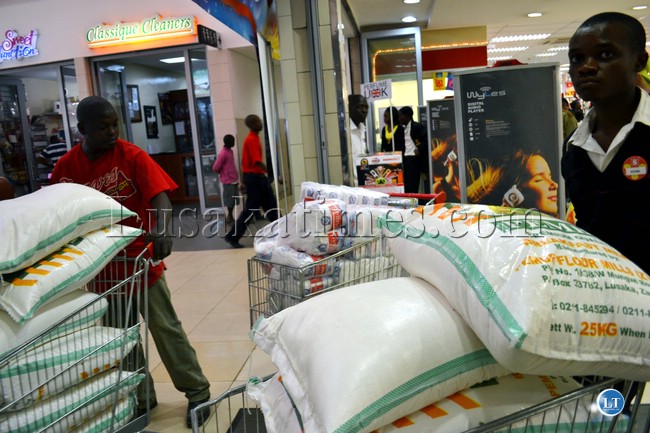 Zambia's annual rate of inflation for the month of December has increased to 7.9 percent compared to 7.8 percent recorded during the same period in 2017.
Central Statistical Office (CSO) Acting Director Goodson Sinyenga says this means that on average, prices of goods and services have increased by 7.9 percent between December 2017 and December 2018.
Mr. Sinyenga attributed the increase in the annual rate of inflation, to the increase in the price of non- food items such as household furniture, as well as the cost in transport.
This came to light in Lusaka today during the CSO monthly briefing.
Mr. Sinyenga adds that the inflation rate for the Housing Water, Electricity, Gas and other Fuels increased to 7.3 percent in December 2018 from 6.7 percent in November 2018.
"The annual food inflation rate for December 2018 was recorded at 8.1 percent compared to 8.4 percent recorded in November 2018.the decrease is mainly attributed to price changes of vegetables such as rape, pumpkin leaves, spinach, cabbage and fruit's. The slowing down in the month on month inflation rate is mainly attributed to price changes of food products such as meat products," he stressed.
And commenting on the annual health Inflation rate, he said the health inflation increased to 5.1 percent in December 2018 from 4.8 percent in November 2018.
He cited that the increment as mainly attributed to price movement of products such as No cough, Kaolin, Fansida, Eye Ointment, Contraceptives and Syringe.
He further disclosed that the country's trade deficit has however decreased by 35.7 percent, which is K2, 691.2 million recorded in October 2018 to K1, 729.5 million recorded in November 2018.
Mr. Sinyenga explained that the deficit in trade means that the country imported more at a slower rate than it exported in nominal terms.
The CSO Acting Director described 2018 as a landmark year since the statistics bill went through a third reading in parliament.
He said once enacted, the bill will respond to the modern ways of data collection as it will be universally accepted.
[Read 632 times, 1 reads today]