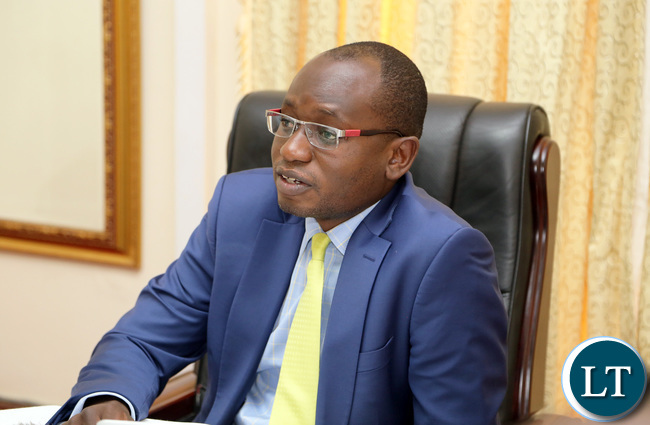 SPECIAL Assistant to the President for Press and Public Relations Mr AMOS Chanda says the new Tax Measures that Minister of Finance announced during the Presentation of the 2019 budget to Parliament will remain as approved and will take effect as law on said dates.
Mr Chanda said President Lungu is waiting for a justification from the Mining companies as to why they are opposed to Sales Tax in Zambia but complying to the same Tax in other regimes.
"President Lungu has left the matter in the hands of Mining companies to justify for instance why they are opposed to sales Tax here when they are complying to sales Tax in other regimes" he said
Mr Chanda said President Lungu still maintains that He will not allow any shading off of labour from mining companies.
"As said when upon arrival on the Copperbelt, President Lungu will not accept unjustified shading off of labour over matters where the mining companies have not made a credible case regarding the proposed retrenchment of workers" he stated.
Mr Chanda President Lungu made it clear that the tax measures in Zambia was fair and not punitive and was arrived at through a broad and consultative mechanism.
He said government will not put in measures that can disadvantage the growth of the private sector.
President Lungu said this in the a meeting with the Chamber of Mines.
President Lungu appealed to the Chamber of Mines that if they have genuine cases to present they must present to Miniseries of Mines, Finance and Labour.
In this regard, Mr Chanda announced that a team of technocrats will be in North Western Province to meet with the owners of First Quantum Mine (FQM) to asses if they have a core case to make for their proposal.
AND, Mr Chanda informed the media on the meeting President Lungu had with the Mine Workers Union.
He said President Lungu was satisfied with the understanding of the Union as they are fully cognizant of the fact that for government to function smoothly and for social services to be delivered government has to collect taxes in a free and fair manner.
Mr Chanda said President Lungu further urged the Mine workers union of Zambia to engage with the mine owners and see the justification for any decision what so ever that mining companies might decide to make in terms of shading off labour
The Head of State also called on the Mine unions to take lead in the discussions to ensure that every action is justified.
Both Meetings took place in Kitwe, Copperbelt while President was on a 2 day working visit in the Province.
[Read 3,655 times, 1 reads today]