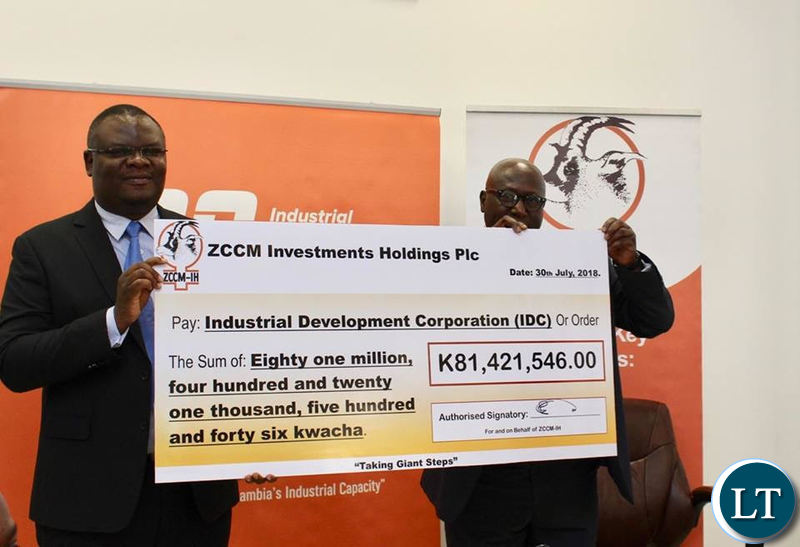 Zambia Consolidated Copper Mine Investment Holdings (ZCCM-IH) has urged Zambians to engage stock brokers and seek advise on how to acquire shares in ZCCM.
ZCCM-IH Public Relations Officer, Loisa Kakoma has advised the public to seek guidance from stoke brokers on steps to follow to acquire ZCCM shares on the Lusaka Stock Exchange (LUSE).
Ms. Kakoma said that ZCCH IH will soon be holding a meeting to propose the next dividend payment.
ZCCM who last year paid thirteen million dollars to its shareholders has shareholders that include the National Pension Scheme Authority (NAPSA) with 15% shares, Industrial Development Corporation (IDC) with 60.28%, Ministry of Finance with 17.25% and various individuals with shares amounting to 7.5%.
She further advised other companies to list their shares on LUSE as doing so improves cooperate governance.
Meanwhile, National Assembly Deputy Speaker Mwimba Malama is happy that Zambians have started aligning themselves to the Seventh National Development Plan (7NDP) by investing in key sectors of the economy.
Mr. Malama said no one can develop the country if Zambians themselves do not take an interest to do so.
He said Zambia is endowed with abundant land, water and other natural resources which people can take advantage and prudently utilise.
Mr. Malama noted that, it is for this reason that government is encouraging the citizens to utilize these resources and invest.
The Deputy Speaker said this yesterday in Lusaka's Chikumbi area when he commissioned Kings Palace Academy, a modern boarding secondary school owned by a business entrepreneur, Mike Bumba.
The High School is due to open its doors on 14th January, 2019 and will offer its infrastructure to the first Grades; eight, nine and tens.
Mr. Malama commended the businessman for being among the few Zambians who have responded by investmenting in the education sector.
"No-one will develop this country if we Zambians ourselves don't. It hates me when Zambians with huge resources go abroad. I therefore, commend Mr. Bumba for this structure," Mr. Malama said.
And Seventh Day Adventist Church Lusaka Conference president, Edwin Shimunzhila revealed that the school will produce future leaders who will contribute positively to the nation.
Dr. Shimunzhila expressed gratitude that Mr. Bumba has joined hands in improving the education standards in the country
Meanwhile, School Proprietor, Mike Bumba is happy that his energies to contribute to the Zambian economy has bared fruits.
Mr. Bumba commended government for putting in place a conducive environment in supporting government's 7NDP of not leaving anyone behind.
[Read 1,305 times, 1 reads today]