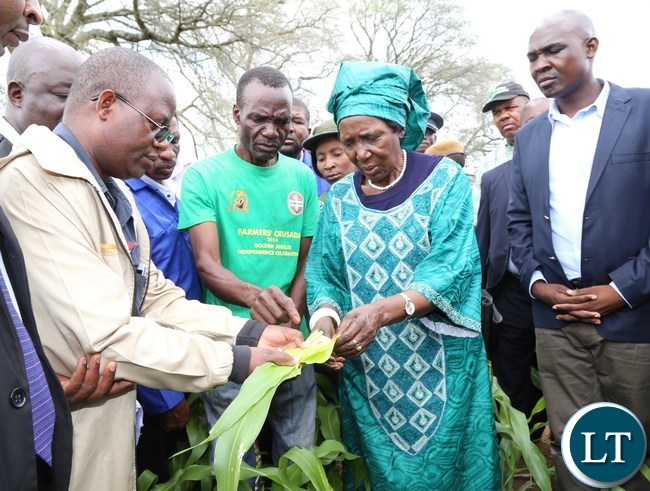 Acting President Inonge Wina says 18 districts countrywide have reported the presence of army worms thereby affecting 44,322 farmers covering about 34,000 hectares of land.
Mrs. Wina says in order to contain the situation, government has set aside K18.6 million in the 2019 national budget for control and management of army worms.
She said in addition, the African development bank has committed US$3 million for purchase of chemicals used in combating the pests and so far, 41,666 litres of chemicals worth US$500,000 have been procured.
Mrs. Wina said in order to quicken the control of army worms, government is also working with institutions such as the Centre for Agriculture and Bioscience International, the Food and Agriculture Organisation and the United States Agency for International Development who are providing financial and technical support towards control and management of the army worms.
She said in addition, Government is liaising with SADC Member States, especially neighbouring countries that were affected during the 2016/2017 outbreak.
"In particular, FAO has developed a system that has linked all SADC member states, Zambia inclusive, thereby enabling countries to share information and to track the spread of the army worms in a timely manner. researchers are also at work to determine how army worms can be managed and controlled using recommended chemicals", she added.
Further, Mrs. Wina said government through the Disaster Management and Mitigation Unit under the office of the Vice President, is activating the call centre where farmers can obtain information on how to reduce the threats of further outbreaks.
She has since urged all farmers and the general public to remain calm, and take measures to control army worms as a shared responsibility with government and its partners further assuring that government is working hard to distribute chemicals to all the provincial headquarters.
[Read 878 times, 1 reads today]