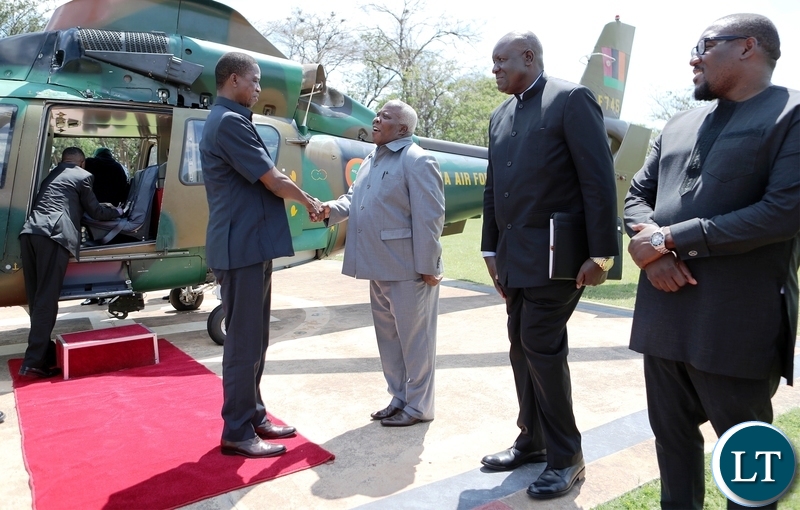 By Prince Ndoyi, MMD Youth
As a young political activist I have had some questions that require some generous answers on the newly created Ministry of Presidential Affairs established by law pursuant to Article 92 (2) (d) of the Constitution. Like they say, there is no limit to the curiosity of uninformed citizens.
Since 30th October 2016, President Lungu swore in a new portfolio ministry he created, and two years down the line questions other than answers arise of what are the functions and scope of work of this ministry. Of what benefit has it been to the nationals at large?
One wonders where the new Ministry is located? What are the working hours and when is it open to the public? Who are the members of staff at this ministry? Who is the Permanent Secretary and who heads their PR department? Which Article of our Laws sets out the Ministry's duties? These are just but among the many questions.
If this ministry is located at STATEHOUSE, then it solves no problem and that would be wrong. Then it overlaps on the duties of the PRESIDENTIAL AlDES who then would be doing absolutely nothing. This should have been a ministry located away from the tedious bureaucracy of statehouse, where ordinary citizens can have artificial access to the Presidency without hassle.
An ever too jovial and colourful Member of Parliament for Mpulungu Mr FREEDOM 'Butterfly' SIKAZWE graced the gesture to be the first minister in the new PRESIDENTIAL AFFAIRS MINISTRY. Ironically, every time one sees President Lungu it is always likely that Hon. Sikazwe will be somewhere nearby if not with him. Of course that's the presidents minister, but then what would be the job of his aides if presidential affairs ministerial staff are everywhere with the President.
Two years down, seeing Mr Sikazwe with the President all the time seems to suggest a reality that perhaps President Lungu has created a MINISTRY without PORTFOLIO. I assume so because a minister without portfolio by definition is either a government minister with no specific responsibilities or a minister who does not head a particular physical ministry. While he or she may not head any particular office or ministry, still receives a ministerial salary and has the right to cast a vote in cabinet decisions. In Africa today only Uganda and Tanzania have ministers without portfolio, like Zambia had once in Late Mr Michael Sata during the Chiluba administration. The sinecure is particularly common in countries ruled by coalition governments.
My understanding, correct me if I am wrong, of why the ministry was created was among others to assume a pioneering role in supporting the country's number one decision-maker by:-
By providing support and consultation to the decision-maker through the development of excellent, high-quality and credible capability to enhance the central role of the Ministry in developing national policies and community services.
Study pertinent issues in all sectors, provide appropriate advice to the President on these matters and follow-up on their implementation.
Prepare studies and research that reflect the president's VISION in line with our country's objectives and expectations, and that address the needs of society and the country.
Study and provide advice concerning draft laws, decrees, systems and agreements.
Monitor political developments, prepare analytical reports and issue regular publications and press releases.
To create databases and prepare statistics supporting the process of strategic decision-making in the country.
Create and implement Social Assistance programs etc.
I am of the considered view, that one would quickly think the presidential market empowerment initiative is supposed to be an umbrella project under this ministry other than a non locative initiative with no proper address. Since the Presidency is an office that attracts goodwill both locally and internationally, it could solicit international scholarships among others underwritten under the presidential scholarships from grades one up-to university level to help the vulnerable falling short of accessing loans or bursaries. This ministry was a brilliant idea which is not being efficiently utilized by the President.
In conclusion, our PARLIAMENTARIANS before voting should have taken keen interest to interrogate and realign the functions and duties of the new ministries President Lungu was proposing to create. This would have ensured the new ministry emanating from the Presidency does not appear to overlap into STATEHOUSE as an office. Thereby creating a minister without portfolio more senior in hierarchy than the Vice President. But like in the words of MCS who described PARLIAMENT as nothing less than a big meeting of more or less idle people.
[Read 7,353 times, 1 reads today]