Sata's u-turn on Barotseland agreement casts doubt on the PF's fulfilment of promises-Mususu
Time Posted: March 2, 2012 8:12 am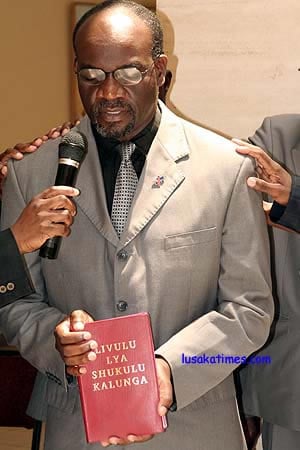 Former Evangelical Fellowship of Zambia executive director Bishop Paul Mususu has charged President Michael Sata's change of thought on the restoration of the Barotseland agreement casts doubt on whether the PF will fulfill most the promises they made during the campaigns.
Bishop Mususu says it is important for political leaders to live up to the promises they make during campaigns.
He says politics can only inspire the voters once politicians live up to the promises they make when asking voters to vote for them during campaigns.
Bishop Mususu says it is disappointing to note that the PF raised the hopes of the people of western province on the Barotseland agreement only to change its position.
He says it is a fact that the victory of the Patriotic Front in the 2011 elections can be partly attributed to the promise the party made on the Barotseland agreement.
Bishop Mususu says the leadership in the Patriotic Front government should ensure that corrective measures are made on the Barotseland agreement.
And Former Anti Voter Apathy Project (AVAP) Executive Director Bonnie Tembo says Dr. Rodger Chongwe should not be blamed for his commission's recommendations to the Zambian government on the Mongu riots because he merely adhered to people's wishes.
Speaking to Qfm exclusively, Mr. Tembo said it is not right to accuse Dr. Chongwe of applying his personal emotions in coming up with a report adding that his recommendations are a reflection of what the people of Barotseland want.
Mr. Tembo has since appealed to government to consider subjecting the matter to a national referendum so that Zambians can decide whether to have the Barotseland agreement of 1964 restored or not.
He has further implored government to avail the Rodger Chongwe commission of inquiry report to the public so that people can debate the matter from an informed point of view.
The Rodger Chongwe commission of inquiry has recommended for the restoration of Barotseland agreement of 1964,but President Michael Sata has categorically stated that he is reluctant to endorse the recommendations.
QFM