Truck load of FRA maize from Kasempa diverted and sold
Time Posted: April 28, 2012 6:53 am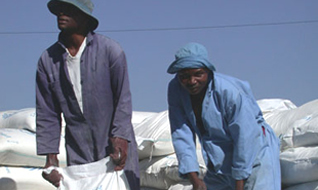 Police in Kasempa have launched an investigation in which a track carrying about 600 hundred by 50 kg maize from Kasempa to Ndola Food Reserve Agency-FRA shade was diverted and sold in Kitwe.
Kasempa Police Officer in Charge Clement Nchimunya said police in Kitwe had arrested a driver of the truck, Kennedy Mpamba, 31 who is now detained in Kasempa police and will appear in court soon.
And Police in Kasempa district have recovered household goods worth millions of Kwacha that is believed to have been stolen between January to March this year.
Mr Nchimunya confirmed to ZANIS that the suspect, Fredrick Mande, 27 of Muselepete area is believed to have stolen household goods from Mukinge area where police had received several complaints for the past two months.
Among the things recovered are three Toshiba Laptops, three DVD players, two Puma blankets, three mobile phones and two mountains bikes.
Police have called on the public to visit the police station and identify their properties.
ZANIS