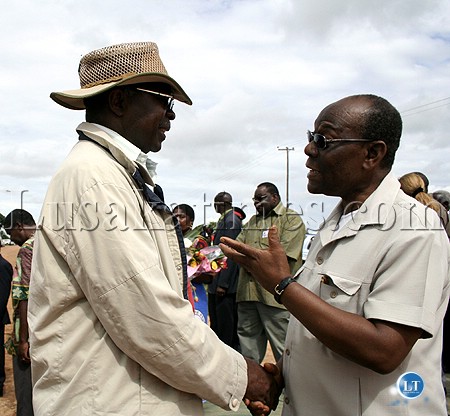 GOVERNMENT has disclosed that the K1 trillion to be used on an urban roads rehabilitation programme will be paid by mining companies.
Minister of Finance and National Planning Situmbeko Musokotwane said this is money that the mining companies owe the government in taxes.
He said in 2008, mining companies had a dispute with Government over corporate taxes, variable income taxes and mineral royalties but the matter was resolved after meeting, and the mining companies are now paying arrears.
"The arrears that the mining companies are paying have created extra revenue that has been channelled to infrastructure development and rehabilitation of urban roads," he said.
Dr Musokotwane said another potential source of the money will be the selling of bonds on the international market at US$500 million. Part of this money will be used for the urban road rehabilitation programme.
He said this in Lusaka yesterday during the recording of the Ministry of Finance and National Planning television programme, Culture Remodelling.
The programme also featured Minister of Works and Supply Gabriel Namulambe.
The theme of the programme was infrastructure development, progress and financing arrangements.
Dr Musokotwane said most roads in urban areas have had their useful life, hence the need to rehabilitate them.
He said there is nothing political about infrastructure development, rehabilitation and construction of roads.
He said when an economy is growing, there is always need to grow infrastructure to match the expansion of the economy.
Dr Musokotwane said if it was political, the private sector would not have joined in infrastructure development but they foresee more growth of the economy, which will result in high demand for more and better infrastructure.
He said more investment is coming despite this being an election year because investors have confidence in the government.
Dr Musokotwane said a review of the growth of the economy will be madebetween July and August.
He said the economy is no longer stagnant but is growing and it is only right to improve the infrastructure.
And Mr Namulambe said works on major roads are progressing well because most contractors are on site or just waiting to sign contracts.
He said some of the major road projects are the Chipata-Mfuwe, Sesheke-Senanga, Isoka-Muyombe and for the Kalabo-Sikongo roads.
Mr Namulambe expressed disappointment that some Kitwe residents were stoning the machinery moved to the site to start the road rehabilitation.
He said that the MMD government wants to ensure that more roads are constructed to ease movement of goods and people.
Mr Namulambe said it is a pity that his predecessor, Mr Mike Mulongoti is condemning the construction and rehabilitation of roads on the Copperbelt when he is the one who promised that township roads would be worked on.
He said K19 billion has been allocated for feeder roads on the Copperbelt in this year's budget and K6 billion has already been released.
Mr Namulambe commended mining companies such as Mopani Copper Mines and Konkola Copper Mines for supplementing Government's efforts by rehabilitating some township roads on the Copperbelt.
He said President Banda should be commended for initiating and completing development projects started by President Mwanawasa.
He said Mr Banda has shown that he is a responsible leader who wants to improve the lives of all Zambians.
[Zambia Daily Mail]
[Read 14 times, 1 reads today]