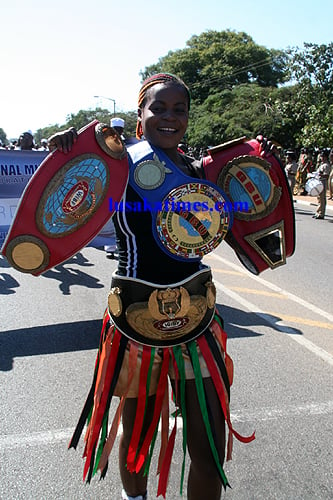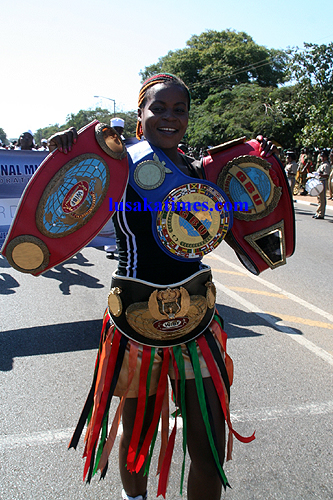 Zambia's sensational boxing heroin, Esther Phiri has quit boxing. It is believed that frustration has forced Esther Phiri to quit the sport, following the descision by Zambia Professional Boxing and Wrestling Control Board (ZPBWCB), a boxing motherbody, to slap her promoter and trainer, Anthony Mwamba, with a three month ban.
"It is with a heavy heart that I have reached this decision to retire from active boxing a sport I love so much. But I could not continue because of the many frustrations from the people entrusted to run the affairs of the sport," Esther said in an interview in Lusaka yesterday.
"People might think I have lost my senses but this is the best decision to take and I did not even tell my manager whom I know is annoyed with my decision," she added.
Esther said it was embarrassing for a World Champion to have her trainer banned from active boxing champion wondering how the board expects her to train without her instructor, who is banned from all boxing activities.
She said she did not agree with the ZPBWCB decision to impose a 90 days ban on Mwamba, whom she said, the board would have called to correct him if indeed they had found him wanting.
"I was really hurt when I heard that my manager has been banned. It was so embarrassing to me as a World Champion. How do people around the World say about a champion whose manager has been banned and striped off his boxing licence?
The decision may be long overdue, but Esther according to Muvi TV Sports News, said that there was a lot of jealous individuals that have worked hard in tarnishing her image.
The household female boxer retires professionally unbeaten, having won her last fight against Zimbabwe's Monalisa Sibanda in the Women's International Boxing Association and World Boxing Organisation title fight last year.
Early last month, Esther hinted that she may not get back in the ring after admitting that she had become overweight for the sport, and claimed she had achieved all a boxer could achieve.
Meanwhile, National Heavyweight Boxing Champion Francis 'Galagata' Zulu says the quitting of Zambia's sensational boxing heroin, Esther Phiri, is a big blow to the boxing fraternity.
Zulu says Esther was an inspirational boxer to both old and new comers and her decision to quit has rather come just too early.
Speaking in an interview with ZANIS in Lusaka today, Zulu said it was no doubt that Esther lifted the boxing sport in Zambia.
He said boxers in the country would respect her decision to resign from boxing though it is too painful.
He described the quitting as a move that has un-settled many stakeholders who have received the decision with great shock.
"It is too early for Esther to quit boxing and it is a big blow to the nation because she lifted the boxing fraternity in particular and Zambian flag higher.
"I respect her decision to resign from boxing but we cannot force her to remain in sport," Zulu lamented.
He thanked the government and other private institutions that rendered support to the female boxing legend and six-time world boxing champion and that it should not relent but to continue rendering support to the remaining active boxers.
Zulu has urged female Zambian boxers to emulate Esther by working very hard to lift the boxing fraternity.
ZANIS