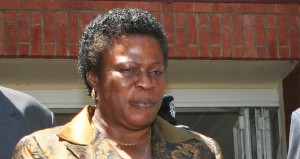 Movement for Multiparty Democracy (MMD) youths have called on President Edgar Lungu to relieve the Anti Corruption Commision (ACC) director Rosewin Wandi.
MMD national youth coordinator Bowman Lusambo said, following the decision by the Anti Corruption Commission to clear President Edgar Lungu's Special Assistant for Politics Kaizer Zulu of all corruption allegations levelled against him, the youths wish to appeal to President Lungu to immediately relieve ACC Director General Rosewin Wandi of her duties.
"We make this appeal in the interest of the nation with the intentions to save the fight against corruption from being hijacked by members of the cartel. Mrs Wandi should leave the ACC because of her close links to the cartel," he said.
He said her continued stay in office will undermine the fight against corruption and erode the gains that the country has made in bringing down the scourge.
"From the manner the ACC handled Mr Zulu's much publicised investigation, we feel her position at the ACC is no longer tenable," Mr Lusambo said.
In a statement released in Lusaka Mr Lusambo said, "The number of leakages of confidential correspondence between the Commission and State House is alarming and brings into question the levels of integrity in the people entrusted to run such a sensitive institution.
We have come to draw a few conclusions about the manner in which Mrs Wandi's Commission managed Mr Zulu's investigations. Firstly, we feel she was under undue pressure from some members of the cartel to proceed in the manner she did. Secondly, the people that instigated the ill conceived investigation were mainly interested in embarrassing President Lungu by linking him to the allegations.
The same cartel members went on rampage and hired discredited agents such as Chilufya Tayali to propagate their hatred against President Lungu and his trusted aide Mr Zulu. The press conference held by Tayali and the numerous comments issued by FDD mouthpiece Antonio Mwanza were cheap shots directed at President Lungu and Mr Zulu.
Instead of expending his energies attacking President Lungu's commitment to the fight against corruption, Antonio should help her boss Madam Edith Nawakwi explain to Zambians how she benefitted from the Carlington maize deal which led to many starving Zambians to their death.
It is distasteful for young people like Antonio and Tayali to blindly agree to follow the evil schemes of the cartel. Young people should rally behind the progressive administration of President Lungu who has shown the ability to listen to Zambians.
Just yesterday, President Lungu was on the Copperbelt opening the Mukuba Mall, a development which has seen the creation of 1,000 jobs. These are some of the developments we expect young people like Antonio and Tayali to be commenting on and not parroting the cartel's ill messages.
As it stands, President Lungu is busy working to develop the nation and people like Wandi should not be allowed to distract his attention from the real issues. Mwandi sela ba Bombeko!"
[Read 7 times, 1 reads today]