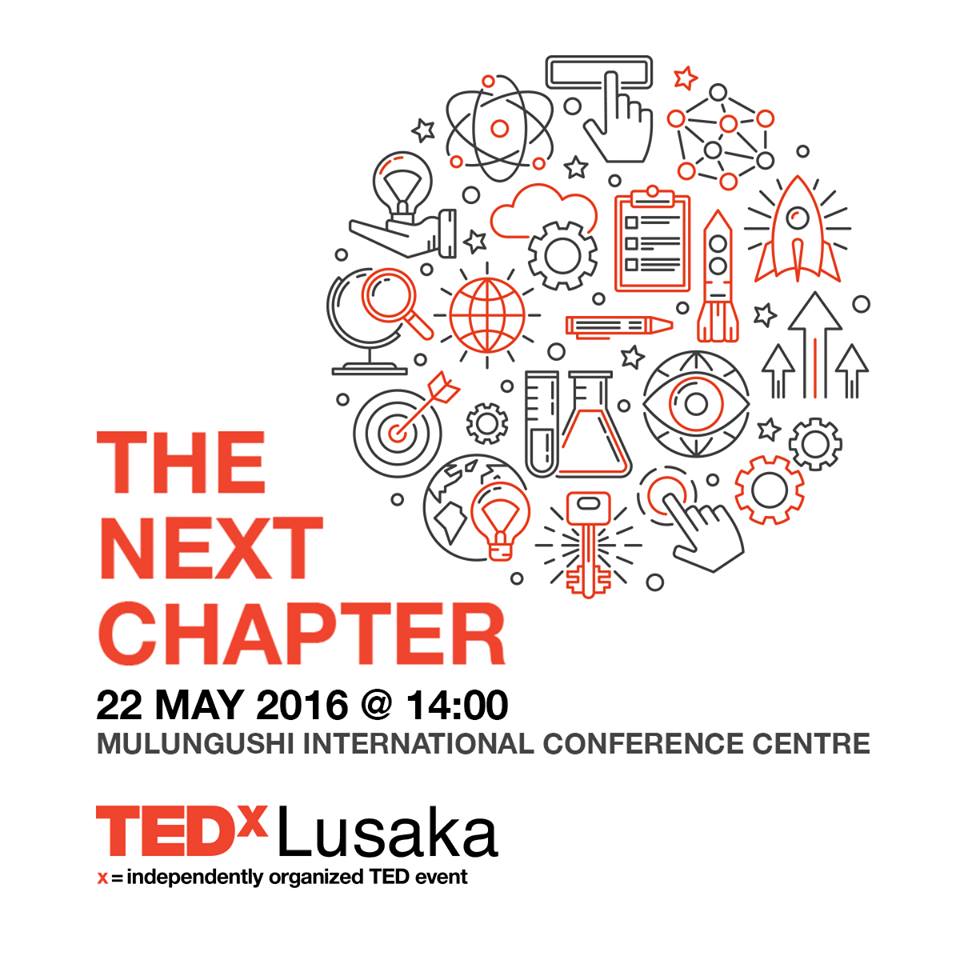 "With Zambia celebrating 50 years of independence in 2014, we looked for ideas that will inspire and galvanise people to think, plan and do things differently as we look ahead to the next 50 years."
TEDxLusaka will be hosting a 'TED talk' themed: The Next Chapter.  Its aim is to provide a platform the exchange of ideas among Zambian from leaders, innovators and creatives.
 Speakers and performers at the event will include; Mulenga Kapwepwe, Mwansa N Mbewe, Joseph Millman, Pompi, Mark Mondoka, Elijah Zgambo, Stary Mwaba . The master of ceremony will be  Kapalu Mutenda.
In the spirit of TED's mission, "ideas worth spreading," the TEDx program helps communities, organizations and individuals produce TED-style events at the local level. TEDx events are planned and coordinated independently, on a community-by-community basis, under a free license from TED.
TEDxLusaka is a free event. Register to attend it here.  It takes place on Sunday 22nd May 2016 from 14hrs at Mulungushi International Conference Centre in Lusaka.
For more information about the event visit the official website tedxlusaka.com or on social media ; Facebook-TEDxLusaka , Twitter –TedxLusaka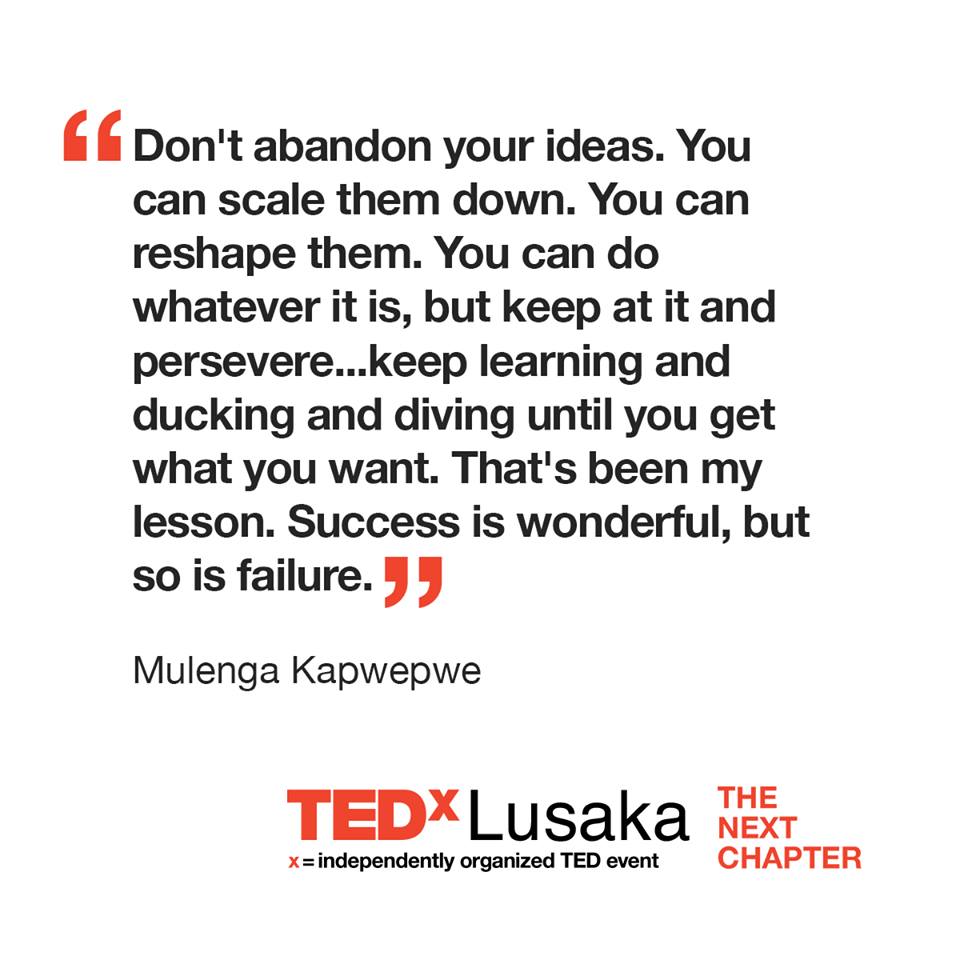 About TEDx, x = independently organized event
In the spirit of ideas worth spreading, TEDx is a program of local, self-organized events that bring people together to share a TED-like experience. At a TEDx event, TED Talks video and live speakers combine to spark deep discussion and connection. These local, self-organized events are branded TEDx, where x = independently organized TED event. The TED Conference provides general guidance for the TEDx program, but individual TEDx events are self-organized. (Subject to certain rules and regulations.)
About TED
TED is a nonprofit organization devoted to Ideas Worth Spreading. Started as a four-day conference in California 30 years ago, TED has grown to support its mission with multiple initiatives. The two annual TED Conferences invite the world's leading thinkers and doers to speak for 18 minutes or less. Many of these talks are then made available, free, at TED.com. TED speakers have included Bill Gates, Jane Goodall, Elizabeth Gilbert, Sir Richard Branson, Nandan Nilekani, Philippe Starck, Ngozi Okonjo-Iweala, Sal Khan and Daniel Kahneman.
The annual TED Conference takes place each spring in Vancouver, British Columbia. TED's media initiatives include TED.com, where new TED Talks are posted daily; the Open Translation Project, which provides subtitles and interactive transcripts as well as translations from volunteers worldwide; the educational initiative TED-Ed. TED has established the annual TED Prize, where exceptional individuals with a wish to change the world get help translating their wishes into action; TEDx, which supports individuals or groups in hosting local, self- organized TED-style events around the world, and the TED Fellows program, helping world-changing innovators from around the globe to amplify the impact of their remarkable projects and activities.
(techtrends.co.zm)
[Read 53 times, 1 reads today]