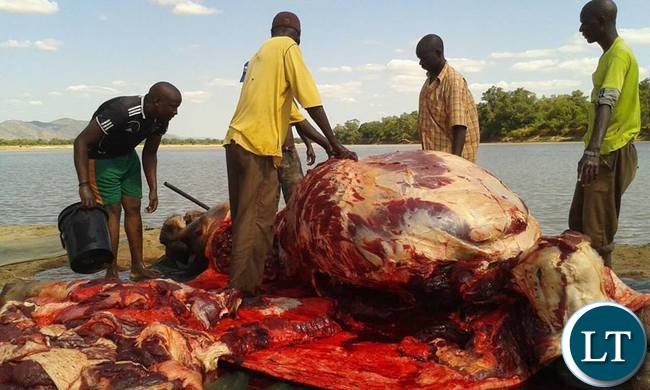 By Andy Coghlan
As many as 2000 hippos may be killed over five years in Zambia.
The government has resurrected a culling plan it suspended in mid-June.
Animal welfare groups say there is no solid scientific case for the cull, which may be carried out by paying trophy hunters.
The government has put forward various reasons for the cull in the South Luangwa National Park.
These include preventing anthrax, which hippos can spread, claims of overpopulation and of water levels too low to support both hippos and the other wildlife.
Yet there's no current anthrax outbreak and water levels are the highest they have been in five years, says Will Travers, President of wildlife charity the Born Free Foundation. "They are on thin ground scientifically."
The government suspended the cull on 14 June, following protests by animal rights activists. But senior officials met on 22 June in Lusaka to recommend the cull go ahead after all, the Born Free Foundation claims.
"There's a relentless effort to press ahead," says Travers. "But at the moment, I can't see how they can justify what's going on." He has now written to Zambian president Edgar Lungu asking for the cull to be abandoned, and for open publication of the rationale for killing the animals.
Travers OBE stated: "Leaving aside the moral and ethical arguments and Born Free's consistent opposition to culling, we are asking for urgent clarification on a number of key issues and the publication of all scientific evidence that might support such drastic measures."
International and Zambian opposition to the cull has been widely reported in the media.
A temporary suspension of the cull, announced on 14th June, was, according to the Department of National Parks and Wildlife (DNPW), to allow for "extensive consultation".
However, following the brief meeting in Lusaka on Wednesday 22nd June it now appears the hiatus is over and the cull is set to resume.
This "invitation only" meeting was called by Stephen Mwansa, Permanent Secretary of the Ministry of Tourism & Arts, and Paul Zyambo, Director of DNPW.
The company contracted by DNPW to carry out the cull, Mabwe Adventures, was in attendance, along with only one local stakeholder, the Luangwa Safari Association – representing safari camps and lodges in South Luangwa National Park.
Information indicates that DNPW is now poised to push ahead with the cull of 2,000 hippos over five years using paying trophy hunters, as was recently promoted on Theo De Marillac Safaris' website.
Why this decision has been taken, and on what basis, remains shrouded in secrecy.
In light of this, Born Free Foundation wrote to President Edgar Chagwa Lungu, on 27th June, requesting the cull be abandoned and that key information pertaining to DNPW's justifications for the cull to be made publically available.
To date, no response has been forthcoming.
Born Free Foundation, together with other wildlife conservation and animal protection organisations, believe that five critical issues still need to be addressed:
1. DNPW has, to date, failed to provide robust, scientific evidence demonstrating that there is an overpopulation of hippos in the Luangwa River, or to make public the Government of the Republic of Zambia report that they have cited in their justification
2. DNPW has failed to provide robust, scientific evidence clearly demonstrating that previous hippo culls in the Luangwa Valley have been successful in reducing the population over the long-term and that the culling methodology that has been proposed – targeting whole pods of hippos in the water – is humane
3. DNPW has failed to provide rainfall and river level data showing that river levels and water flow in the Luangwa River are abnormally low and cannot sustain the current hippo population
4. DNPW has failed to provide credible, scientific evidence to show that such an indiscriminate hippo cull would prevent a future outbreak of anthrax – not prevent the spread of an existing outbreak – as there isn't one
5. DNPW has failed to provide categorical evidence that an approved and transparent tendering process took place in awarding the culling contract to Mabwe Adventures, of which an ex-Zambia Wildlife Authority employee, Flavian Mupemo, is a shareholder and beneficiary.
Given the highly contentious nature of culling; the unanswered questions raised above; the possible conflict of interest; and the concerns about the lack of transparency of the tendering process, Born Free Foundation is calling for the planned cull to be abandoned and for the matter to be investigated at the highest possible level by an independent inquiry, established under the auspices of The Office of The President.
Travers added: "The longer these vitally important issues go unanswered, the more the authorities come up with different and, as yet, unsubstantiated justifications for the cull, the more Zambia – one of Africa's great wildlife strongholds – will suffer lasting reputational and potentially economic damage. The independent inquiry, called for by Born Free, seems to me the only way to establish the truth and determine whether any of the claimed justifications for the cull – a measure which could see 2,000 wild hippo lose their lives – can withstand the scrutiny they deserve."