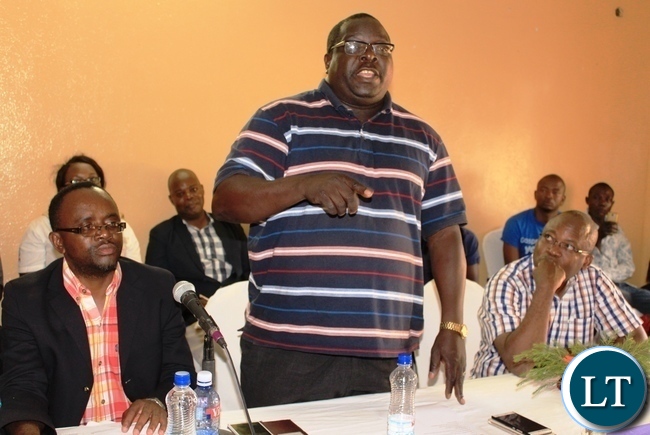 The Patriotic Front Youth leadership in Lusaka has castigated PF Roan Member of Parliament Chishimba Kambwili for issuing media remarks that have potential to put the ruling party's name in disrepute.
PF Lusaka Province Youth Chairperson Kennedy Kamba said that Mr. Kambwili should follow proper channels of airing his personal grievances.
Mr. Kamba said that Mr. Kambwili's assertions that police officers and the Intelligence wing are harassing him should be dismissed with contempt.
He told ZNBC News in Lusaka that Mr. Kambwili should not seek sympathy through unfounded media statements.
Mr. Kamba has since advised Mr. Kambwili to take any concerns to the forth coming PF Central Committee meeting.
Mr. Kambwili has been quoted as saying some police officers and Intelligence Officers attempted to harass him at his home in Luanshya over the weekend.
Meanwhile, political commentator Edwin Nyirongo has said it was not too late for Mr Kambwili and former Copperbelt Province minister Mwenya Musenge to humble themselves and make peace with the PF.
In an interview yesterday, Mr Nyirongo said the recent political manoeuvres by Mr Kambwili and Mr Musenge had left many people wondering whether the two were still members of the ruling party or not.
"As things stand now, it is hard to tell which political party Mr Musenge, for instance, belongs to owing to his recent activities which mostly appear to be against PF and in support of the UPND.
"The two have the right to associate with politicians or political groupings of their choice but it will be more appropriate if they did that in a more transparent way."
Mr Nyirongo warned that the soft approach taken by the PF leadership to tolerate Mr Musenge's misconduct against the ruling party would not last forever.
"It's high time Mr Musenge and his colleague checked their conscience. They need to be clear on what they want to achieve in their political journey.
"Because the current attitude of Mr Musenge and Mr Kambwili towards the PF party, Government and President Edgar Lungu is highly questionable," said Mr Nyirongo