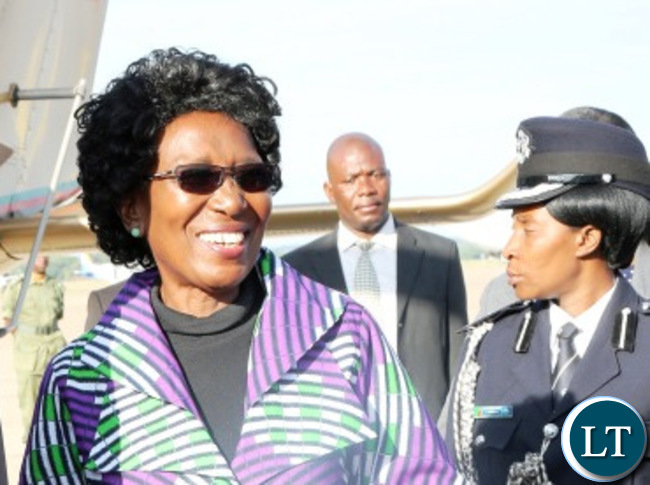 Vice President Inonge Wina has expressed happiness at the work done by the Defence and Security wings in support of the Disaster Management and Mitigation Unit (DMMU) in the office of the Vice President.
Mrs. Wina said this is following the mobilisation of the defence and security wings in December 2017 by President Edgar Lungu to join the multi-sectoral emergency response team to fight the cholera outbreak in Lusaka.
Mrs. Wina has observed that since 30th December 2017, the defence wings have provided medical personnel and services, clean-up of solid waste in public places and drainages.
She said in addition, the defence forces have also mounted water tanks and delivery of portable water to cholera prone areas, burying of contaminated shallow wells as a safety measure and maintenance of law and order in Lusaka city.
Mrs. Wina further stated that because of these efforts Lusaka's Central Business District (CBD) is now very clean and conducive for conducting legalised businesses as compared to the time before the emergency response.
She said the cholera outbreak is almost contained in most affected areas and many lives have been saved through the services offered by defence and security medical personnel.
Mrs. Wina said many residents in cholera affected areas now have access to clean and safe drinking water, a prerequisite for preventing epidemics such as cholera.
She said the city of Lusaka is once again gaining the status of a clean city as it was designed to be.
Mrs. Wina has since called on citizens to value the services offered by men and women in uniform and other stakeholders, noting that cholera and other water borne diseases will continue to draw away funds meant for developmental projects into fighting epidemics which can easily be prevented.
"I have observed that so far the general public is happy about the cleanliness and safety experienced in corridors of Cairo, Cha Cha Cha and Lumumba Roads as well as markets which were an eyesore not too long ago. I am appealing for calm in view of the public and private schools, marketeers, farmers and suppliers of tradable goods and services who may be inconvenienced by measures undertaken by government in search of a long-lasting solution," said Mrs. Wina.
Mrs. Wina has also thanked all stakeholders for the generous support and goodwill expressed towards the emergency in view of the positive response from residents of Lusaka, cooperating partners, the business community, faith based and religious organisations.
She has called upon political leaders across parties as well as traditional, religious and community leaders to work closely with government in maintaining the clean and safe environment in Lusaka city and across the country.
This is contained in a statement made available to ZANIS in Lusaka today by Permanent Secretary for Administration in the Office of the Vice President Stephen Mwansa.
[Read 11 times, 1 reads today]