Slap D gets HIV test for MTV's Me, Myself and HIV
Time Posted: February 24, 2012 8:28 am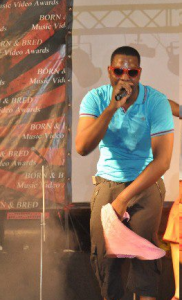 Slap D is taking part in the MTV 's initiative , Me , Myself and HIV ,which is part of their Staying alive campaign to get the youths to know more about HIV and to get tested.
Slap D is a role model for today's youths ,him getting tested and knowing his status will encourage other youths to do the same.
Testing for HIV is quick and confidential .
So what are you waiting for , go and get tested today !
It's easy to get weighed down with facts and stats when it comes to HIV, but there are a few pieces of information which are definitely worth knowing. Not only will they educate you, they'll also enable you to make smarter choices when it comes to your sex life.
What is HIV
HIV stands for Human Immunodeficiency Virus. Viruses like HIV need to infect the cells of a living organism in order to replicate. The human immune system usually finds and kills viruses fairly quickly, but HIV attacks the immune system itself – the very thing that would normally get rid of a virus. HIV infects and gradually destroys a person's immune system, reducing their body's ability to fight against even simple infections like a common cold.
Prevention
If you are having sex, there are ways to make it much safer and protect yourself from the risk of HIV. Using a condom correctly (or a femidom) reduces the risk of HIV transmission because it stops the sexual bodily fluids from coming in to contact with one another. Remaining faithful to one partner, once you have tested together and know each others' status, also reduces the risk of infection because you expose yourself less often to the risks of HIV.
For men, circumcision is now showing signs of reducing the risk of contracting HIV by 60%. But you to still have to wear a condom to protect you and your partner.
However, the only kind of sex that is 100% safe is no sex. Choosing not to have sex doesn't mean you can't have a good time or be intimate, but it does mean that you are avoiding any chance of becoming infected with the HIV virus.
By Kapa187