MISA annual award launched
Time Posted: March 1, 2012 7:03 am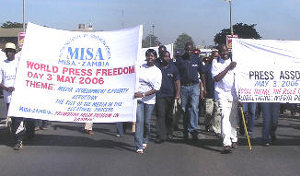 The Media Institute of Southern Africa (MISA) has today launched the 2011 MISA Zambia annual Media awards.
Speaking during the launch, MISA Acting Chairman Nalumino Nalumino told Journalist at the press briefing that the annual media awards are aimed at promoting professionalism among Journalist and Media institutions.
ZANIS reports Mr Nalumino has stated that MISA will also honour institutions and individuals that have significantly contributed to a free and independent media in the Country.
He said a free media is an important prerequisite that creates an enabling environment for the media to be professional in its line of work.
Mr Nalumino disclosed that with this arrangement, deserving Journalists stand a chance to win between 2 and 3 million kwacha respectively.
The categories of the awards are those covered on Radio, Television and Print Media which include issues such as best Energy reporting, best HIV/AIDS reporting and MISA freedom award.
All the award categories will give a deserving journalist K2 million except the MISA Freedom award which carries a K3 million prize.
Meanwhile the Electoral Commission of Zambia (ECZ) has also introduced an award for the best Elections reporting while Zambia Information Communication Technology Authority (ZICTA) has also introduced an award for the best reporting on Information Communication Technology (ICT).
The stories to be considered for the awards should have been published between 1st January 2011 and 31st December 2011 and the submission of the reports closes on 13th March 2012.
ZANIS