6 dogs kill Lusaka Cop
Time Posted: April 16, 2012 9:04 am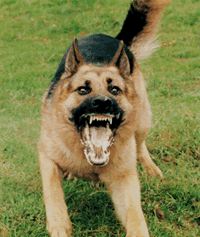 Six vicious dogs in Lusaka mauled a police officer to death, while his colleague is battling for his life in the University Teaching Hospital (UTH) after the bloody attack.
The dogs pounced on Constable Msimuko and his colleague only identified as Nyasulu around 02:00 hours yesterday at House Number 152 in Zani Muone area, as they were trying to open the gate.
Six German shepherd dogs mauled Mr Msimuko to death and severely injured Mr Nyasulu, aged 39 in a grisly attack as the two were on their way to visit their friend.
Police Service spokesperson Elizabeth Kanjela confirmed the death of Constable Msimuko of Balmoral Police Station.
"This incident happened on April 15, 2012 around 02:00 hours at house 152 in Zani Muone. Msimuko and his friend Nyasulu aged 39 years went to visit their friend Jabica Paul.
"While trying to open the gate, the dogs pounced on the two men killing one and causing serious injuries to Nyasulu," she said.
The body of the police officer is in the University Teaching Hospital (UTH) Mortuary, while Nyasulu is being treated in the same institution.
In Kabwe, Police have arrested a 58-year-old man for defiling his 15-year-old stepdaughter.?Ms Kanjela named the suspect as Harrison Banda, who forced himself on the helpless girl at Goma Farm on Friday last week.
Police in Kabwe have also arrested a 24-year-old woman for being found in possession of fake United States (US) dollars.?The woman, identified as Yvonnie Sikazwe of Kansenshi, Ndola was picked up at the weekend, while her husband, Tom, is allegedly on the run.
"It is believed that the two have been working together with Charles Daliso Buula who is already in police custody," Ms Kanjela said.
Police recovered US $500,000 fake dollars, equipment and chemicals used to make the same money.
A cyclist, identified as Elias Phiri, died on the spot after being hit by a motor vehicle on Saturday around 19:00 hours along Great North Road near Marple-hurst in Kabwe.
The Toyota Corolla driven by Godfrey Mwandila aged 48 of Bwacha Township and hit Mr Phiri, who was cycling from East to West.
In a related development in Lusaka two pedestrians died on the spot after being hit by motor vehicles in two separate road traffic accidents.
The first accident occurred on Saturday around 13:00 hours along Mimosa Road near Mr Sikota Wina's residence when a Regius registration number ABT 4707 driven by Maria Kafwalimani hit a pedestrian only identified as Ng'ambi aged 47 of Linda Township who died on the spot.
The other accident happened when a Mitsubishi Canter, driven by Nevers Mwalombwe of Mapoloto area, Chilenje hit into a pedestrian aged 10 in Mount Makulu. She sustained injuries and died on the spot.
[Times of Zambia]