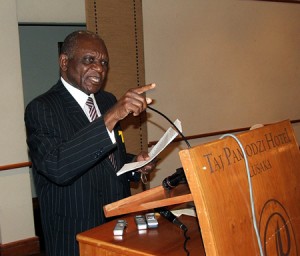 The Treatment Advocacy and Literacy Campaign (TALC) is happy that the Sondashi formula SF2000 has been proved useful to contain medicinal value for the fight against the HIV/AIDS.
The Sondashi Formula has since been earmarked for phase one of the clinical trials after scientist tasked to examine the potency of the formula to treat HIV/AIDS discovered particles that are useful in the HIV fight.
TALC National Coordinator Felix Mwanza expressed delight at the development saying the country stands to benefit immensely if the cure for HIV/AIDS is discovered by a Zambian.
Mr Mwanza has however cautioned the nation against jumping to conclusions before a re-examination and certification of the safety of the formula was done.
He told ZANIS in an interview in Lusaka today that previous formulas had proved disastrous and maimed volunteers of clinical trials.
Mr Mwanza appealed to government to ensure that the rights of people that will volunteer in the trial are respected and that their interests are taken into consideration.
"As TALC, we welcome the discovery because we believe that is good development. However, our main interest is to ensure that the rights of people involved in the trials are respected as the trials go on", he said.
He hoped that the volunteers would be taken care of if they developed side effects and that the government will take full responsibility of the outcome of the trials.
[ ZANIS]