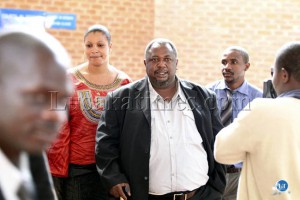 THE youth leadership in Western Province has resolved to back former Kaoma Central Member of Parliament (MP) Austin Liato as the MMD's vice-president.
Those in support of Mr Liato are youth chairpersons from Kaoma, Mongu, Sesheke, Kalabo, Lukulu, Senanga, Shang'ombo and Mulobezi districts.
The resolution was made at a meeting held at Ishaa Mbingo's Kraal Lodge in Kaoma at the weekend.
Those that signed the resolution were Kaoma District youth chairperson David Chiyuka, Vincent Mapunga from Mongu, Sesheke's George Simulilo and Mulambwa Munalula representing Kalabo.
Others were Mutete Mutete from Lukulu, Senganga's Muyambwa Wamundila, Lifasi Mutonga of Shang'ombo and Sililo Kusika representing Mulobezi.
When contacted for comment, MMD deputy national secretary Chembe Nyangu said Mr Liato was a "free man as his suspension was lifted long before his conviction."
He said Mr Liato was an active and loyal member of the former ruling party.
Mr Nyangu said the position of vice-president had not been advertised yet, but that it would be announced soon.
He said members who were in good standing with the party would be urged to contest.
"By 30th June, 2012 we should have the two vice-presidents in place," he said.
Western Province youth Chairperson Musangu Njamba said the resolution to rally behind Mr Liato was based on his exemplary track record in various portfolios he served and that it was arrived at after wider consultations in the province.
"We have resolved that we are going to sell Liato for the position of the vice-president of our party because we have seen how he has worked. Mr Liato has worked well in all the portfolios he was given in the Government of this country," he said.
Mr Njamba cited Mr Liato's portfolios he had served as Labour minister, Energy deputy minister, Lusaka Province Minister, Kaoma Central MP for ten years, Zambia Congress of Trade Unions (ZCTU) vice- president.
He also served as Zambia Electricity and Allied Workers Union president.
The Lusaka Magistrate's Court last month sentenced Mr Liato to two years imprisonment with hard labour for possessing property suspected to be proceeds of crime. This was in connection with the K2.1 billion, which was dug out from his Mwembeshi farm.
He was released on K50 million bail pending his appeal to the High Court.
At the MMD provincial conferences, which ushered into office Nevers Mumba as the party's president, it was resolved that the vice- presidency position be reintroduced after being frozen for several years.
The party would now have two vice-presidents, one in charge of political affairs while the other one for administration.
[Times of Zambia]
[Read 15 times, 1 reads today]