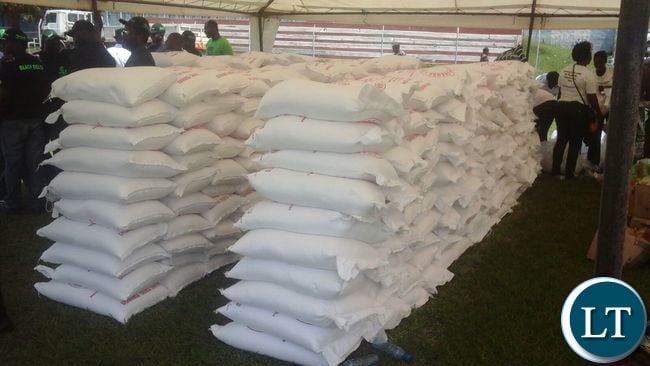 SEVEN of the 2, 000 solar-powered milling units have been installed in Northern Province, bringing the price of mealie- meal down to K48 per 25 kilogramme bag of roller meal in Kasama District and surrounding areas.
So far, 100 of the 2,000 units, which are being procured by the Zambia Cooperative Federation (ZCF), have arrived in the country pending installation in selected districts.
The seven units have been commissioned and have since started offloading mealie-meal to Kasama residents, in the province where a 25 kilogramme bag of breakfast is going at K52, while the same quantity of roller meal is fetching at K48.
This is opposed to the situation among other suppliers in the province, who sell the commodity at about K100 per 25 kilogramme bag of breakfast and K80 for roller meal.
Both ZCF director, operations and projects Derrick Sokoni and Northern Province Cooperative Marketing Union (NPCMU) general manager Danny Mulenga confirmed the development in separate interviews yesterday.
"We have started offloading the cooperative mealie-meal to the public following the installation of the solar units in Kasama and Luwingu Districts.
"Our Breakfast is costing K52, while the roller meal is selling at K48 per 25 kilogramme bag. So you can see that our mealie-meal is sold cheaply compared to other millers, whose mealie- meal is costing K100 and K80," Mr Mulenga said.
About six units have been installed in Kasama District, with one having being installed in Luwingu District.
The milling units have the capacity to produce 80 by 25 kilogramme bags of mealie-meal per day.
Mr Mulenga said the cooperative started offloading the mealie-meal to members of the public on Tuesday this week and attributed the lower prices to the sourcing of maize locally, among other factors.
He explained that as of Tuesday, the cooperative had 120 kilogramme bags of mealie-meal and had managed to sell over 50 bags by press time.
"The response from members of the public so far has been overwhelming. We expect that by the end of the day, more bags will be offloaded," he said.
Mr Mulenga anticipated that mealie-meal prices would reduce further once the Cooperatives start buying the maize directly from the farmers.
Kasama resident, Malama Mulenga, who bought two 25 kilogramme bags commended the cooperative for selling their mealie-meal cheaply, saying that was what residents have been waiting for, for a long time.
ZCF director general, James Chirwa said the cooperative will soon start offloading mealie- meal in Solwezi District.
He said the cooperative would find ways of ensuring that consumers were not being exploited by the traders.
Two days ago, Mr Chirwa announced that another batch of the 49 solar-powered milling units had arrived in the country through Beira Port bringing the total number to 100.
A week ago, 48 units arrived through Nakonde border post and were dispatched to Kasama District for installation.