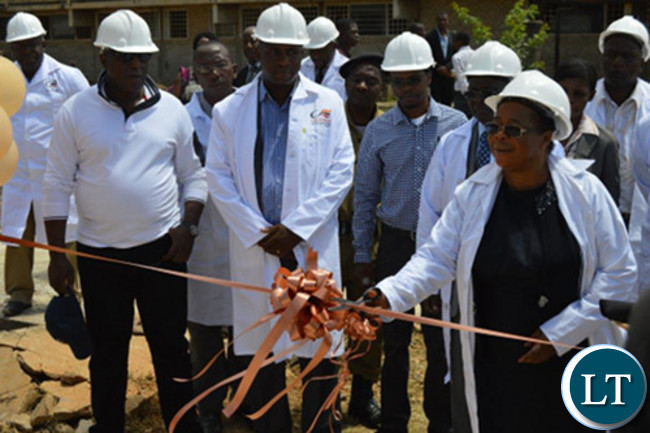 Copperbelt Energy Corporation has unveiled its single largest social investment undertaking to date with the construction of a USD 2,560,000 mini power system.
The project conceptualised, constructed and financed by CEC was officially commissioned and handed over to the University of Zambia's (UNZA) School of Engineering at a ceremony held on 19 February, 2016.
The power system, created for learning demonstration purposes, comprises two substations at 11/66kV and 66/3.3kV, 11/3.3kV switchgear room, a short 66kV transmission line, battery and control rooms, and associated civil infrastructures.
CEC undertook the project 5 years ago in support of UNZA and the Education Partnerships in Africa (EPA), an initiative involving stakeholders in academia and industry aimed at improving the delivery of training and education offered at African institutions of higher learning and the qualifications attained therefrom.
CEC Chairman Hanson Sindowe explained that the project's aim was to assist UNZA train and develop human capital ready to meet the needs of the power sector in Zambia by reducing the skills gap in engineering students through exposure to the actual electrical equipment used in industry.
"This is one way of sharing our market success with academia and to help galvanise industry, in general and the engineering industry in particular, and a quest to extend a culture that emphasizes creativity and innovation to learners, who form an essential skills and human resource pool for the industry at large," said Mr Sindowe.
University of Zambia Acting Vice Chancellor, Professor Enala Tembo-Mwase said the University needed scientific and engineering equipment to teach the phenomena of physical principles and to demonstrate the capability and power of modern instrumentation for problem solving; and that the instructional equipment received would enable the university achieve the balance between theoretical knowledge and hands on education, which employers expected of a university graduate.
"With the mini power system in our hands, it will be possible for us to collect and analyse data in minutes, something which in the past would take weeks," said Professor Tembo-Mwase.
Energy and Water Development Permanent Secretary Brigadier-General Emelda Chola, challenged industry players not to demand creativity and innovation if the curriculum and training aids did not keep up with the technological advances that were in tandem with a fast-paced and technologically evolving global work environment.
"Today our energy sector is faced with some challenges and at the same time is presented with opportunities of equal measure. To effectively address some of the challenges and seize the opportunities requires a multi-dimensional approach that starts with improving the quality of education and training provided to the ones expected to provide creative and innovative solutions required for the sector to perform well now and in the future," said Brigadier-General Chola.
Prior to constructing the mini power system, CEC had supported UNZA in other infrastructure improvement requirements, including rehabilitation of lecture rooms, constructing a roof over the School of Engineering workshop, part of which houses the Control Room for the substations, installing white boards and data projectors in lecture rooms and providing laptop computers for the teaching staff.
[Read 33 times, 1 reads today]