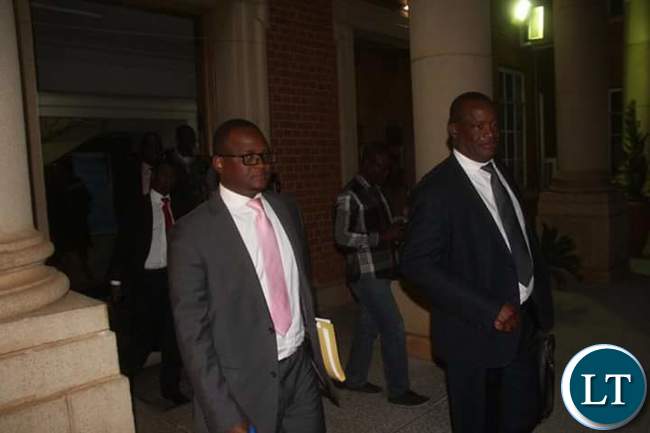 The Lusaka High Court has thrown out an application by Hakainde Hichilema and his running mate Geoffrey Bwalya Mwamba to prevent the Inauguration Ceremony slated for Tuesday 13th September 2016.
The Court also threw-out the application with costs.
Judge Mwila Chitabo who was hearing the matter on Friday evening said the court had no jurisdiction over the matter.
"I have no jurisdiction to grant interim relief sought under Article 28. They are denied with costs".
Mr Hichilema and Mr Mwamba were seeking High Court's interpretation.
They claimed that the Constitutional Court denied them the fundamental right to be heard over their election petition
The Constitutional Court dismissed the Petition for want of prosecution in the 14 days stipulated by the Constitution thrown out as the litigants.
Hearing for the main case continues on Monday.
Earlier, Attorney General Likando Kalaluka asked the High Court to deem UPND President Hakainde Hichilema and his running mate Geoffrey Mwamba to be vexatious litigants.
Mr. Kalaluka said that the two should not be allowed to commence legal proceeding without leave from the court.
He said that before allowing the two the court should make sure that their proceedings are not an abuse of the court process.
Mr. Kalaluka said that his application is in accordance to section 16 and two of the High court Act.
This is according to an order that Mr. Hichilema and Mr. Mwamba be deemed to be vexatious Litigant filed by Mr. Kalaluka.
The Attorney General made the application when the parties meet for the inter-parte hearing this morning before High Court Judge Mwila Chitabo.