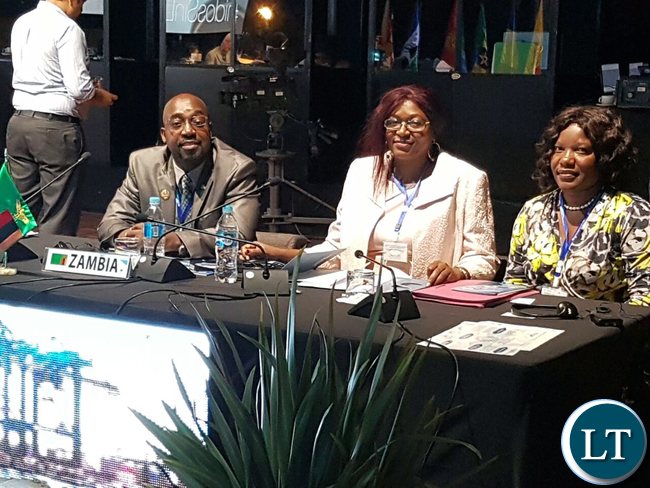 Today, I went to ZNBC studios and read the speech to launch Road Safety Week that starts and runs between 11th to 17th December 2016. Shortly after, I hosted the media in my office to talk about the SI 76 of 2016 that I signed into law a few weeks ago which relates to banning of night driving of PSVs between 21hrs and 05am.
I shared with the media that at the time the SI was signed, government was starring in the face of horrific road deaths, one after another, and painful injuries among our citizenry from these unrelenting road accidents.
The people dying on our roads were our mothers, brothers, nieces and so heartbreaking to look at this and just pretend it's not happening. When we drilled in the statistics further, we found 68% of these accidents that happened at night involved Public Service Vehicles (PSV) travelling during certain hours of the night.
government is considering another SI to move certain percentage of bulk and heavy cargo off our roads and onto our rail
Due to poor visibility at night, fatigue and many times, alcohol abuse by drivers, Government, through my Ministry, felt we had to do something. We therefore restricted driving during the block of time with the most accidents. We did not stop there. We set up a task force to study the SI 76 and its impact on all of us road users as it took effect. We accelerated the process to bring other initiatives and measures to the fore to enhance road safety such as:
1. Fatigue management among drivers
2. Automatic speed limiters on PSVs and use of GPS
3. Alcohol testing among drivers and curbing other distractions while driving such as the use of cell phones
4. Institutionalizing safety programs in-house by owners of PSVs
5. Seat belt laws
6. Establishment of fast track courts countrywide for prosecuting offenders
7. Auditing our driver licence curriculum and road worthiness tests on vehicles
8. Elimination of corruption in driver licensing process and vehicle testing. Only qualified drivers will get licenses and only road worthy vehicles will get to be driven on our roads
9. Stricter enforcement mechanisms by traffic police and RTSA and stiffer punishment.
10. Better engineering, construction and repairs of our roads to include all safety measures
11. Improved road markings and signage countrywide
The measures and initiatives above are at various implementation stages and I wish to categorically state that they will all be seen to their full implementation in order to ensure safety on our roads. By implementing many of these, we may realize that restricting driving at night of PSVs may be over taken by events.
Further, the government is considering another SI to move certain percentage of bulk and heavy cargo off our roads and onto our rail. Both TAZARA and ZRL have been assessed, recapitalized and ready to take on this tonnage. The move will lower transport costs in the country, further improve safety on our roads, lower road maintenance costs, and extend the life of our roads.
I wish to seek your full support as we go through some adjustments and allow for safer roads for all of us especially our children and grand children, the future of this great nation.
God bless you all, God bless the President of this great nation as he blesses the nation.
By:Hon. Brian Mushimba, MP
Minister of Transport and Communication
[Read 142 times, 1 reads today]