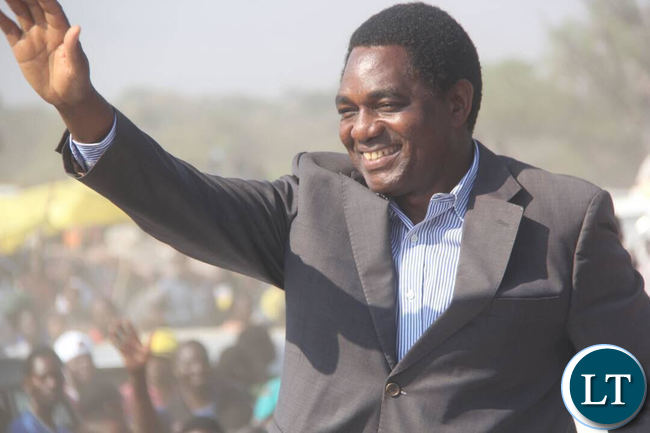 Outspoken former ZANASU and now MMD youth Prince Ndoyi has poured called water on the invitations extended to oppisition UPND president Hakainde Hichilema by the Chatham Housa who have invited the opposition leader to give a presentation on the state of Zambia's democracy.
Mr Ndoyi described the invitation as "mere political propaganda meant to portray Hakainde Hichilema and his UPND as having international acclaim."
He said Mr Hichilema and his party have no moral right to lecture anyone on Zambia's democracy because they do not believe in democracy as there has never been any semblance of intra party democracy in their party since he took over as party president almost 13years ago.
"HH and his UPND reserve no moral right to be given a platform to lecture anyone on our country's DEMOCRACY anywhere in the world because they don't represent democracy neither as a virtue, a value nor indeed a belief. What is democracy according to HH and his UPND? Could it be an endorsement by the Chatham Think Tank that democracy is only but a theory which can only be practised by those in government. Shouldn't it be seen to be embraced and practised intra the opposition political parties as well.
"Hakainde Hichilema has held on to UPND leadership for the past 13 years and has attempted the presidency 5 times. It is indeed shameful for HH and his UPND to even condemn President Lungu on his ambitions to stand in 2021 because unlike him President Lungu has only attempted the presidency twice and has won on both occasion. UPND has no democracy as an institution that's why since HH installed himself as president, there has never been elections," he said.
Mr Ndoyi challenged the institutions which have invited Mr Hichilema to explain the basis for his invitation as certain questions relating to intra party democracy in their party remain unanswered from the UPND and its leadership.
"We want the people who have invited HH and his UPND to answer the following questions;
How did HH get to the UPND presidency? How long has HH been the UPND president? How many times has he stood in general elections? Who in the UPND leadership was democratically elected? These are the simple questions HH and his UPND have failed to attempt to answer back home. How then do they answer bigger questions on platforms abroad. The only thing HH will go and do abroad is to speak ill of our country," he said.
He observed that it was shocking that the UPND leader was going to recieve an award to recognise him as a freedom fighter when he has been boycotting African Freedom Day celebrations.
"Isn't it shocking that HH is on a flight to receive an award recognising him as a freedom fighter? When in fact Hakainde Hichilema has been boycotting African Freedom day celebrations let alone Zambia's Independence Day Celebrations, since he became UPND president.
"Hakainde Hichilema is neither a Democrat nor a Freedom Fightre, he is just but a business man who is in politics to use political power for his businesses. Therefore, the institutions his friends are using to give him credence are historically misinformed and morally bankrupt," he said.
Ndoyi also noted that the recent discoveries of Oil and Gold deposits have attracted attention from multi national corporations who want to usurp power for there benefits.
"We are aware that Zambia is all of a sudden receiving attention because of the recent discovery of oil and gold deposits, that is why political power is at the top of the agenda for Multi National Corporations. We want to urge HH and his UPND to desist from using foreigners' platforms to discredit the nation in their desperation to get their endorsement or in their hope to get help from the said Multi National Corporations to win the next elections," he said.
Ndoyi added that UPND could be soliciting for international platforms through their president's "friends" who he said he should instead use them (friends) to help bring in foriegn investment.
"…Therefore, we warn Mr Hichilema's foriegn friends that continuing to do so they risk portraying HH and his UPND as an agent of state capture or indeed colonialists.
"Instead of using his so called powerful friends abroad for the benefit of Zambians through investments. Unfortunately, HH is using them for his personal glory. He should even be embarrassed to receive such awards because he had never fought for freedom let alone the fight for democracy and multi-partism. While others sacrificed and fought for the reintroduction of multi-partism, the only thing HH is known for is his alleged business involvement during and after privatisation," he said.
On the candidature of the African freedom award, Mr Ndoyi wondered as to which category Mr Hichilema had been nominated.
"Finally, when an ordinary Zambian hears Freedom Award one would think HH was a freedom fighter who contributed to our independence or for the independence of other African States. Or that perhaps HH maybe fought for the underprivileged on a grand scale philanthropy basis dealing with Malaria, HIV, Cholera, poverty, hunger eradication, agriculture and food systems sustainability, good education access for all especially girls, healthcare for all, gender disparities etc but instead he shuns every opportunity to be helpful. Like recently were HH and his UPND boycotted the referendum, an opportunity for Zambians to enhance their social and economic rights," he wondered.
[Read 24 times, 1 reads today]