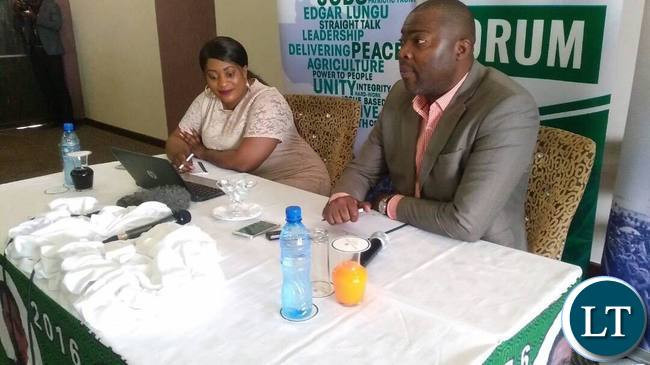 COPPERBELT MINISTER Bowman Lusambo has castigated expelled Roan MP Chishimba Kambwili for abusing permits granted to him to hold party meetings . Mr Kambwili is alleged to have turned his meetings into political battlefield where has allegedly been issuing disparaging remarks and insulting president Lungu administration with impunity in place of addressing real issues facing the country.
And the Kabushi Law maker has announced that all the projects recently launched by President Lungu in the province are shaping up and progressing very well.
Mr Lusambo took a swipe at the embattled consultant of National Democratic Party(NDC) describing him as political noise maker. He stated that Mr Kambwili's manoeuvres amounted to nothing but entertainment.
Addressing a multitude of journalists and party officials that filled a 400 seater capacity conference room at Protea Hotel, Mr. Lusambo stated ironically that the political party that could unseat President Lungu and the PF goverment is yet to be formed.
"We have one gentleman here on the Copperbelt by the name of Chishimba Kambwili. The gentleman is making empty noise and if he is popular as he claims we would have seen the activities in Luanshya because he is from Luanshya. He has failed to penetrate the Copperbelt because here we know him. we know that he is one of the dramatists, comedians we need In the political arena and we need him to entertain us", said the minister
"Instead of taking president Lungu for a movie at arcades or at Fresh View Levy mall we have him (Kambwili) to entertain us and people are enjoying too because tapali eko engatutwala" added Mr Lusambo
The minister observed that whenever the president was visiting the province he focuses on developmental and real issues that affect the citizens.
"When the president visits this province he talks about development and real issues. But when we give him (Kambwili) permits to hold meetings he start attacking the president and Copperbelt minister. We will not allow lawlessness on the Copperbelt" he warned
Meanwhile, the minister has informed members of the press, and through them, the nation, that the construction of Copperbelt 400Km (C400) road, US$ 397 million Copperbelt International Airport, US$ 104 million Kafubu Water and Sewerage Company (KWSC), US$ 490 MILLION Water and Sanitation Project in Kafulafuta are progressing well and works are on course
[Read 53 times, 1 reads today]