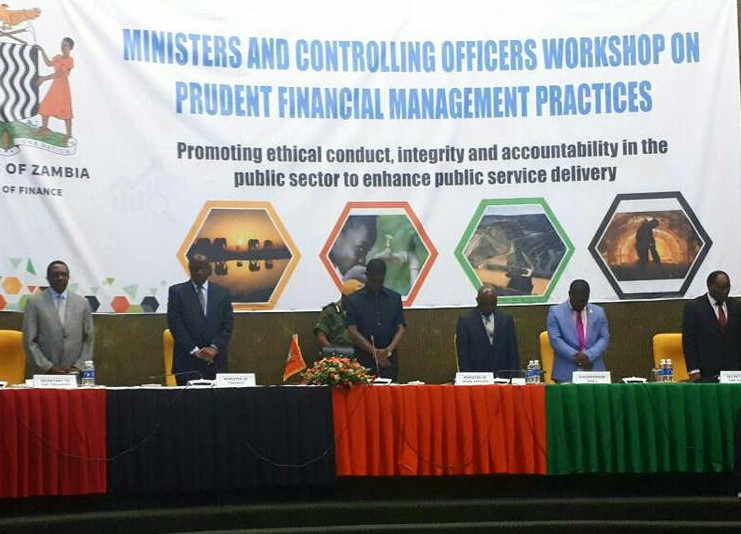 President Edgar Lungu has taken a swipe at law enforcement agencies for their slow pace in investigating and prosecuting individuals cited in the Auditor General's report.
The Head of State is also hoping that the courts of law will expedite the process of hearing cases relating to misuse of public funds to deter would be offenders.
Speaking in Lusaka during the Ministers and Controlling Officers Workshop on Prudent Financial Management Practices organized by Ministry of Finance, President Lungu says he is concerned that the law enforcement agencies are slow in following up cases relating to misuse of public funds.
He says law enforcement agencies should not wait for him before acting saying it is not his duty to bring to book those abusing public funds.
President Lungu is also hoping that parliament will enact the Public Finance Management Bill into law in the coming sitting which will result in prudent financial management by controlling officers.
He has warned those entrusted with management of public funds that no one will find refuge in him when found wanting, saying he wants to work with honest and accountable people.
President Lungu has since assured the office of the Auditor General of his administration's support as they try to promote prudent financial management in public offices.
Speaking at the same workshop, Finance Minister Felix Mutati says there is need to change the way public resources are utilized by way of eliminating negative vices that hinder national development.
And Acting Auditor General Ron Mwambwa says over the years, misappropriation, misapplication and misuse of public funds has continued in public offices and hopes that these can reduce going forward
[Read 12 times, 1 reads today]