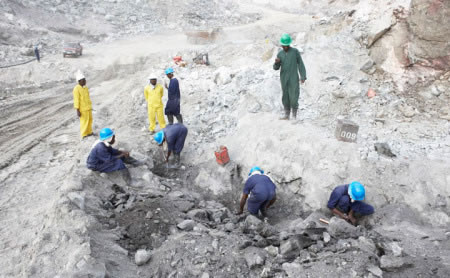 KAGEM Mining Limited has allegedly refused to rehabilitate roads in Lufwanyama as part of its corporate social responsibility.
District Commissioner Miniver Mutesa confirmed yesterday that she received a negative response when she approached the giant emerald mining company regarding rehabilitation of the roads.
Ms Mutesa said this when Gemcanton Investment Limited donated over 500 litres of pesticides worth more than K60,000 to six Lufwanyama chiefdoms where army worms ravaged maize fields.
She said while Gemcanton had been responding positively to requests for corporate social responsibility programmes like road rehabilitation, construction of schools, and helping farmers affected by army worms, some mining companies had a negative response to such programmes.
"Last year when army worms invaded farmers' fields in Lufwanyama, Gemcanton came to their aid by donating pesticides to them and even today you have repeated your gesture. However it is of serious concern that some emerald mining companies in the area are responding with negativity towards such programs. "I approached Kagem regarding rehabilitation of the roads in the area and their response was negative," Ms Mutesa said.
Meanwhile, Chief Lumpuma of the Lamba of Lufwanyama district has urged Gemcanton to go beyond donating pesticides and look at other farming inputs like fertiliser, as a way of supplementing Government's efforts.
He said Lufwanyama's population comprised the farming community, which needed fertiliser and seed -hence it was imperative that Gemcanton and other mining companies supported them through agro inputs.
He said while Government had its own farmer input support program, the private sector needed to join such efforts.
"As we appreciate this donation, we are asking you to go further and look at donating fertiliser and seeds to the community and as a private sector you need to support Government," Chief Lumpuma said.
And Gemcanton chief executive officer Abdu Bah said his company was looking forward to a good relationship with chiefs and the community.
Mr Bah, who spoke through the mine's manager Mr Lungson Mukuma, said the company had decided to donate the pesticide because it had realised the damage that army worms could cause.
"Our community in Lufwanyama depends on agriculture and so we decided that we donate the pesticides to save the crop fields from being ravaged," Mr Bah said.
[Read 78 times, 1 reads today]