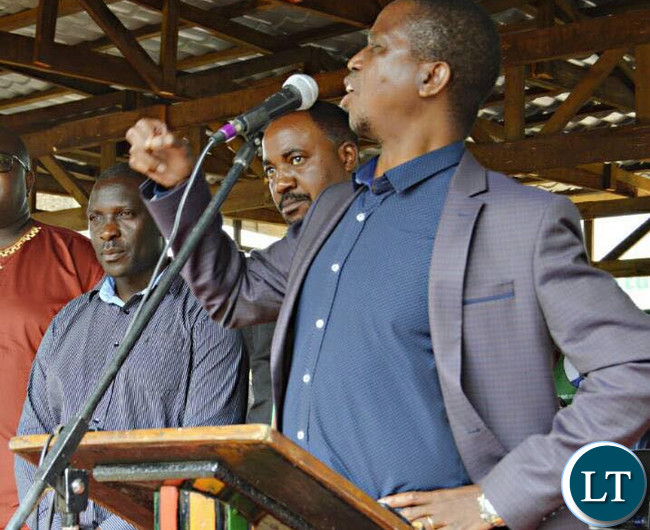 President Edgar Lungu has called on all Members of Parliament irrespective of their political affiliation to feel free to engage him on matters of national development.
Speaking when he addressed a rally in Kantanshi Constituency in Mufulira district today, President Lungu said politics of campaign are long gone adding that it is now time for politicians to work together for the development of the country.
He said the only way development in the country would be achieved was through unity among politicians hence the need for unity.
" If I say I cannot work with opposition MPs, how will those MPs access resources to bring development to their ( respective ) constituencies? So all MPs, whether they are UPND, MMD, or any other party, they are free to access me," he said.
Mr. Lungu urged the PF in Kantanshi constituency to work hand in hand with the area's independent Member of Parliament, Anthony Mumba in order to bring development to the area.
"I don't want to find this disunity next time I come. You keep saying, 'we can't work with him ,he's independent. An MP can't be independent of the people. I want you to work closely with him so that you bring development to this constituency," he said.
Mr. Lungu urged the PF to be quick to forgive those who had wronged the party and wanted to come back saying this was the only way the party's strength would be retained.
The President meanwhile urged miners not to listen to people who wanted to mislead them with false claims that they could negotiate for better conditions of service for them from their employers.
He stated that it is only the unions and government who had the power to speak for them as no mining company would listen to someone not in government.
And Kantanshi MP, Mumba praised President Lungu for bringing development to the country.
Mr. Mumba said his constituency was anticipating a bumper harvest as farmers had received their farming inputs on time.
The Member of Parliament pledged to work with the President and the ruling PF in order to develop Kantanshi.
And Government says it is determined to improve the working conditions of civil servants across the country.
President Edgar Lungu says civil servants can only be motivated and work harder if their working environment and conditions are more conducive and habitable.
President Lungu says his administration will for this reason ensure it fulfils its promise of improving the working conditions of civil servants such as the constructing 12,000 houses for police officers in different police stations throughout the country.
The Republican President said this after inspecting police staff houses under construction at Mukambo border post in Mufulira District , today.
Mr. Lungu , who also took time to address wives of police officers at the new camp, assured that together with families, they will dwell inhabitable structures because they are also important players in national development.
He said the purpose of the visit is to fulfil his promise of ensuring that all development projects countrywide are visited.
During the visit to the border post, the President took time and interacted with the local residents and walked from the police station to the border point much to the ululation of residents who followed behind and chanting praises to him.
President Lungu also inspected ZRA, Police and other government offices at the border post.
President Lungu is on a three day visit of developmental projects on the Copperbelt where he is also expected to inspect the Mufulira-Ndola road and later officiate at a PF fundraising dinner dance, this evening.
Accompanying the President includes, his Special Assistant for Press and Public Relations Amos Chanda, State House Minister Freedom Sikazwe, Party Secretary General Davis Mwila, Home Affairs Minister Steven Kampyongo, among other government officials.
[Read 20 times, 1 reads today]