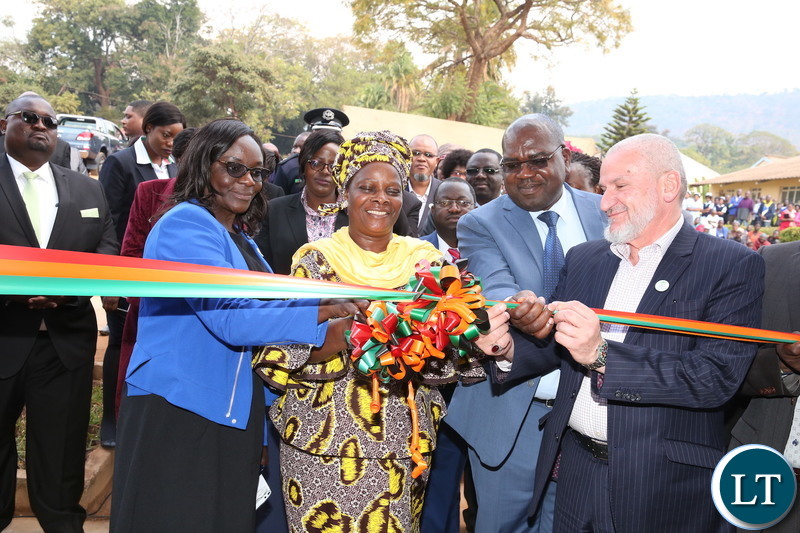 First lady Esther Lungu has officially commissioned the K3.5 Million eye clinic at Chipata Central Hospital.
And Mrs. Lungu has also launched the USD 100, 000 eye surgical camp where 500 patients are scheduled to undergo surgery.
Mrs. Lungu says both the eye clinic and surgery camp are intended to eliminate preventable visual impairment through sight restoration, improve access to eye health services among people and create a sustainable and predictable partnership collaborations.
ZANIS reports that the First Lady said this when she commissioned and launched the two facilities today. She hopes that the eye unit will be used to restore sight even to people from far flung parts of the region.
The first lady commended the Christian Blind Mission (CBM) of German for funding the construction of the facility which she said will strengthen health systems in the country.
Mrs. Lungu also thanked the International Islamic Organization for Southern Africa (IIOSA) for sponsoring the eye surgical camp which
will help restore sight of the 500 cataract patients. She stated that the collaboration is responding to the objectives of
the country's National Health Strategic Plan 2017-21 and the 7NDP which both emphasize the call not to leave anyone behind in Zambia's development agenda.
She stated that no one should be left behind by virtue of being visually impaired. And Minister of Health Dr. Chitalu Chilufya praised the first lady for her support to the health sector.
Dr. Chilufya noted that the Esther Foundation Trust has been providing advocacy, support and commitment to the health sector is unprecedented.
He said that the Ministry will not take such efforts for granted but ensure that it delivers in line with its mandate.
And CBM Acting Country director Aretha Nsefu said construction of the health facility is a result of collaboration of several donors including the private sector, German and Zambian Governments. Ms Nsefu said the facility is expected to provide specialist eye care services in the region. Meanwhile, a representative from the IIOSA, Shiekh Walid El Saad
stressed his organization's commitment in providing health services in the country. Mr. Saad commended the first lady for her efforts in supplementing Government's efforts in the delivery of health care services in the country.
[Read 103 times, 1 reads today]