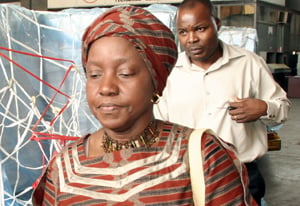 A Zambian Judge, Florence Mumba, has been appointed as International Reserve Judge of the Pre-Trial Chamber of the Extraordinary Chambers in the courts of Cambodia for the prosecution of crimes committed during the period of Democratic Kampuchea (ECCC).
United Nations (UN) Assistant Secretary General in charge of the Office of Legal Affairs, Peter Taksoe-Jensen disclosed this in a statement today.
Mr. Jensen said UN Secretary General Ban Ki-Moon has since received notification from Samdech Hun Sen, Prime Minister of the Royal Government of Cambodia that the Supreme Council has appointed Judge Mumba o be part of the team to prosecute the leaders of the Khmer Rouge regime for the crimes they committed.
He said according to the terms of the Pre-Trial Chamber of Extraordinary Chambers in the Courts of Cambodia, Judges are appointed by the UN Secretary General.
The Cambodian government has invited international participation for the sake of its people and because of the perceived weakness of that country's legal system and the nature of the crimes.
This is contained in a statement released Moses Walubita, First Secretary for Press at Zambia's permanent mission to the UN in New York.
In 2001, the Cambodia National Assembly (NA) passed a law to create a court to try serious crimes committed during the Khmer Rouge Regime in 1975 to1979.
The Khmer Rouge regime took over power on April 17, 1975 and was over thrown on January 7, 1979.
The end of the Khmer Rouge was then followed by civil war which finally ended in 1998 when the Khmer political and military structures were dismantled.
In 1997, the government requested the UN to assist in establishing a trial to prosecute the senior leaders of the Khmer Rouge.
This special new court was created by the government of Cambodia and the UN to be independent and would provide new role model for court operations in that country.
Judge Mumba is currently the chairperson of the Electoral Commission of Zambia (ECZ).
[ZANIS]
[Read 16 times, 1 reads today]