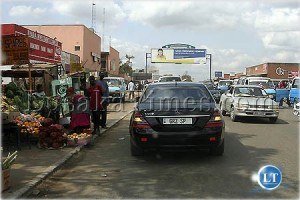 By Gerald Nkisu Katayi

Some people have amassed wealth through stealing and plundering their places of work; in government or private firms and yet they live like heroes. It is now a common thing to see a station handy man driving an expensive car or a records clerk living in a mansion. Dr. Sondashi once said, "Workers steal from their employers; even those who make tea in offices, steal sugar and tea bags". Are people employed to work or steal? Some people might say both! Is it true then to say behind every success story there's a crime?
Not long ago a princess from a royal establishment who now lives in Lusaka decided to dress up a presidential candidate who could not afford to buy decent suits during the campaigns. Meaning he was a poor man. But soon after winning the elections, he became one of the worlds neat dressed men; on top of that owning property in and outside the country. Turning from a caterpillar into a beautiful butterfly over night.Going by the constitutional salary for a president, it is impossible to equate his salary and the property he acquired? Which formula did he use to get wealth during his presidency? Or was there something fishy? Some of these questions remain an answered.
Government workers in Zambia get away with theft so easily because their disciplinary codes are so tedious; it takes years for any one to be penalized. Some of them end up being retired in public interest and then pay them more on top of what they stole. It could be from this background that Mr. Mike Mulongoti is campaigning against "abuse of office" from the Ant-Corruption Act. There's no reason for any sincere office bearer to react negatively to the consequences of abuse of office as Mr. Mulongoti is doing. It is now becoming common knowledge that Zambians are joining politics for plunder and not for service.
The Post Newspaper carried out an editorial which read in part… "It is inconceivable that public officers, such as Rupiah and his minions, can fight for the right to abuse their offices without consequence…" Yes, they want to abuse their offices without consequences. They want to cover their dark side so that the long arm of the law could not reach them. Otherwise, why fight against such a progressive law when there are laws which need to be changed like the Public Act which those in office use to oppressed their opponents?
Abuse of office comes in different ways, but one of them is stealing. Using one's office to gather personal wealth, like stealing from the hospitals, schools and roads. This is mind boggling! And yet this has become a work culture and acceptable in Zambia; because there's no political power to avert this scourge. Both the politicians and the law enforcement officers are involved in the plunder. This type of selfishness can destroy a country. T. Milton has carefully marked; Satan in his intense selfishness would rather reign in hell than serve in heaven. Through the plunder that takes place in private and government offices, individuals drive posh cars on dirty roads and around poor citizens. That is indeed reigning in hell and refusing to serve in heaven.
When you make money your god, it will plague you like the devil. A man is called selfish, not for pursuing his own good, but for neglecting his neighbor's. Never one thing and seldom one person can make for success. It takes a number of them merging into one perfect whole.
[Read 26 times, 1 reads today]