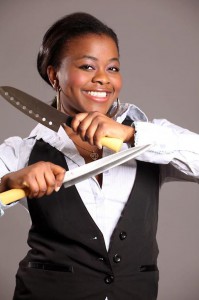 Lilllian Elidah Daka-Mumba is a professional chef . She was born in Lusaka ,Zambia, raised in Sweden, studied in Switzerland, and worked in France .
She has working experience in Sweden,Zambia, France and Switzerland.
She is a Foundation Degree holder in Culinary Arts established at Cesar Ritz Culinary Arts Academy. she got a Membership certificate from the French association "Devoir du champignon"
KAPA187: What made you want to be a professional chef instead of a more traditional career such as a doctor or lawyer?
Lillian: I grew up in Sweden and through my three years of college, I got to do law, and such subjects, but they never quite fascinated me. After I graduated from college, I took time off to decide what I really wanted to become and realized that I love cooking and I can make a living out of it.
 KAPA187: Has your family always been in support of your decision?
Lillian: my mother at first was quite doubtful that" Why do you want to become a chef? You can be an economist, or anything because of your good grades", but it is something that I decided to do and become and like everything else I do, I make the best out of it and do my best. I managed to persuade her. Through my actions and determination
 KAPA187: What do you think is the biggest misconception of professional chefs?
Lillian: That question depends where you come from. In Europe and the western world, being a chef is just like any other profession and we obtain the respect because here they understand the value of a chef, the amount of work and strain it has and this is due to that eating in restaurants and out has been a culture for so many decades.
In Africa, they are a few chefs, most of them are cooks and that's where the difference is. In Africa being a chef is considered low educated and not such a good option and I can't blame them, they are not so many culinary schools, great hospitality schools either and eating out in restaurants has just gotten popular recently, before people would not go out that much.
 KAPA187: What is your favorite food to eat and favorite to cook, why?
Lillian: I am quite picky with foods, but I love the classical Italian, Pasta Bolognese, Lasagna also baby pork ribs and delele, ifishashi, Swedish meatballs, smoked salmon , . I love a bit of all the foods; it represents me because I have a bit of every country.
 KAPA187: How important is it to have a good education before becoming a chef.
Lillian: Being a chef requires an education! I obtained my higher Swiss Diploma and foundation degree in Culinary Arts at the Cesar Ritz Colleges in Switzerland. That is the difference between a chef and a cook, Cooks rarely need to go to school but chefs do. I have had to learn marketing, people skills, certificates in hygiene, nutrition, law, and service. Nowadays few establishments will hire you if you do not have a culinary education. Culinary is the academic word for cooking. There are different types of chefs, pastry chefs, cold kitchen chefs and etc. People normally mistake being a chef means being a baker, pastry chef and chocolatier, no it is not. They all have quite the same foundation but you will always need experience or education to obtain the needed skill to work within the part of the kitchen you want.
 KAPA187: Give an example of a menu that you would prepare for this particular season in Zambia .
Lillian: Given that it is the beginning of the year and in Zambia we have a lot greens I would prepare
Amuse Bouche
Air dried ham with dried Zambian mango chutney.
Appetizer
Bruschetta of tomato, onions and basil, topped with Mozzarella cheese
Main Course
Pork with wild mushroom sauce and roasted potatoes
Dessert
Poached pear with mango ice-cream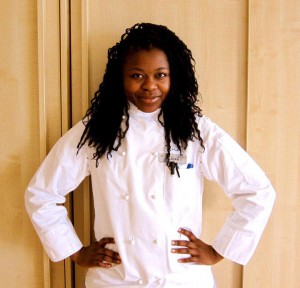 KAPA187: What do you do to stay educated about new trends?
Lillian: Read hospitality magazines look at what other chefs are doing, Ask my readers and supporters on what they would love to read about and have recipes on. I also observe the growth of the cultural populations and influences in our society
 KAPA187: What do you do to insure the quality of the food going out to customers?
Lillian: have a well prepared menu with good working personnel. Detailed upon last minute, food served and held at the right temperature. Using fresh and seasonal ingredients. Great food presentation and a smiling service team.
 KAPA187: Having worked in many countries, how do you feel professional zambian chefs compare with the rest of the world.
Lillian: I do have the highest respect for any Zambian, or African chef no matter the education because I know it is not easy and it takes a lot of courage and heart to do what we do. Zambian chefs are not on the world map yet and cannot compete with the other international chefs, and that is not their problem it is because the hospitality education does not have that form of education for chefs and also even looking at restaurants in Zambia we are not there yet but we are getting there.
 KAPA187: What have been your best and worst moments in your career.
Lillian: There are a few moments, When I started writing for one of the biggest newspaper in Zambia, I was 19 years then, the youngest author and now I am a bit grown and still writing. The whole nation has gotten to see the other way of my cooking.
My graduation, and when I opened my own catering company, Twaala Catering.
Worst. The moments that I cried because it was either too difficult or I got underestimated for being a woman but now I have learned, never ever cry.
 KAPA187: What 3 things do you consider to be your strengths.
Lillian: My academic skills because it is EVERYTHING one needs to obtain, academic wise in one package. I have always been taught to be humble and to respect people. Discipline is my biggest strength because as a chef we have three addictions. Alcoholic, drug or workaholic and I have seen people do drugs, drink at work but I never ever done this, but I can say that I am indeed a workaholic. I got one addiction.
 KAPA187: Tell me something you would like to learn or improve upon.
Lillian: I would love to improve my speed, work with more chefs and become extremely detail orientated and more patience.
 KAPA187: You know 8 international languages, which ones are they and how has that helped you in your career.
Lillian: Bemba, Soli, Nyanja, Swedish, French, Spanish, English, Norwegian (The last ones are a bit similar to each other) It has helped me tremendously. When I started working in Switzerland and France our dishwasher spoke Spanish and he helped me with the language barrier. I can speak when I'm home in Zambia. Swedish helps with German as well. It has helped me a lot to connect and socialize with people. I can now work and communicate with one of the best chefs in the world which happened to be French.
 KAPA187: Do you have any hidden talents?
Lillian: I love writing and photography. I am an artist…culinary artist. I love being creative and this has helped me with my other passions and also ventured into other businesses.
 KAPA187: What advice would you give someone who wants to begin a career in culinary arts?
Lillian: You have to love what you'll do and know what you want. It will be long hours, exhaustion ,be ready for that. Be open-minded, and courageous. It is not a competition with others, always compete with you and strive to become better and greater. I wish you all the best and hoping to work with you very soon and if you have any questions visit my Facebook page.: http://www.facebook.com/#!/LillianElidah
Here is some of the food you can expect from her: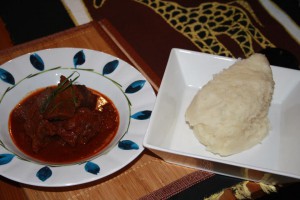 Nshima and beef stew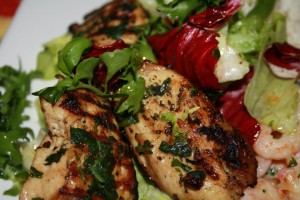 Chicken salad in pesto sauce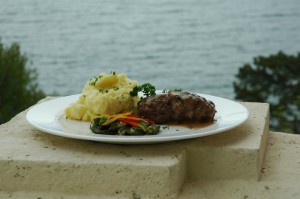 Mashed potatoes and fried mince beef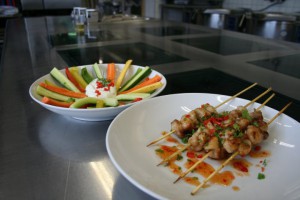 Chicken skewers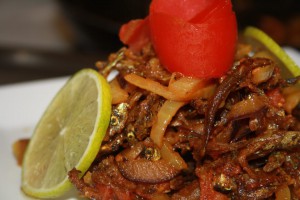 Home made Kapenta with cumin and lime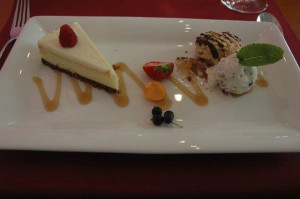 New York Cheesecake
Lillian is an inspiration to other young women , she is multi talented and apart from being a chef she is also :
the executive producer for the cookshow " Cooking with LillianElidah."
Food Writer for The Post, Zambia.
Managing Director for EZM magazine
C.E.O and founder for L.E.D.M, a fast growing management and consultancy agency with over three companies.
Executive chef and supervior for Twaala Catering and events.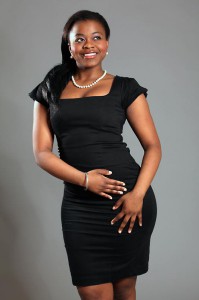 BY KAPA187
[Read 171 times, 3 reads today]