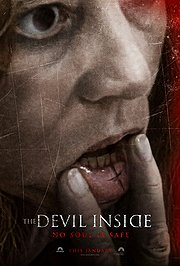 In 1989, emergency responders received a 9-1-1 call from Maria Rossi (Suzan Crowley) confessing that she had brutally killed three people. 20 years later, her daughter Isabella (Fernanda Andrade) seeks to understand the truth about what happened that night. She travels to the Centrino Hospital for the Criminally Insane in Italy where her mother has been locked away to determine if her mother is mentally ill or demonically possessed. When she recruits two young exorcists (Simon Quarterman and Evan Helmuth) to cure her mom using unconventional methods combining both science and religion, they come face-to-face with pure evil in the form of four powerful demons possessing Maria. Many have been possessed by one; only one has been possessed by many.
PROS
It has a good story line
Had some scary moments.
Had some nice twists to the story.
CONS
The movie ended abruptly ,which was not good as it left to many unanswered questions.
The whole movie was shot like a first-person documentary , so it some of the camera angles were very poor , and it keeps on shaking so- much- so that you cant make out what is happening.
FAVORITE QUOTES
Micheal put down the camera 
Maria Rossi: Three people.
Maria Rossi: Three people are dead.
Maria Rossi: I… I killed them.
CONCLUSION
Its not the most scary movie you will watch , it is mostly creepy . It is shot like a documentary ,supposedly to  make it feel more authentic ,but the poor camera word takes away from the story. It does leave you with something to think about , do you really belive people can be possessed by demons ?  The ending of the movie is very anti-climatic , just as the movie has got you on the edge of your seat its over.
RATING
2 out of 5

By Kapa187
[Read 11 times, 1 reads today]