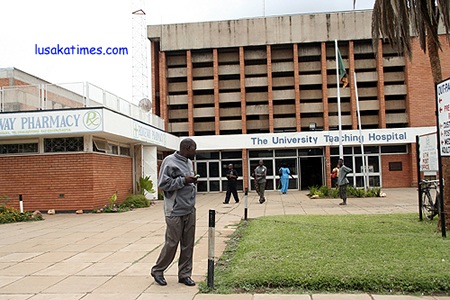 Survivors of the horrific Chibombo accident recalled with shock the accident which left 53 dead with the death toll having now increased by three more victims.Chibombo District Commissioner Felix Mangwato confirmed the latest deaths.Mr Mangwato said one of the passengers died on arrival at Liteta Hospital and another victim died while in admission at the hospital while the third one died on the way to the University Teaching Hospital (UTH) for emergency treatment. Among the dead are three police officers.
A visit at UTH found Pauline Banda Musonda who sustained a broken arm and leg, in agony.She told the Times that she was in deep shock, especially that she did not know the whereabouts of her husband.
"I am injured yes…but I don't know where my husband is. We were together on the bus. I don't know what happened…I don't know whether he is alive or he is among those that died," she said in her hospital bed."The only thing I remember is when I was in a van being ferried to the hospital. I was so in shock. When the accident happened, most people in the bus were asleep," she said.
Ms Musonda, who works for the Ndola High Court, said she was going to Lusaka to pick up court files from the Lusaka High Court and was scheduled to return to Ndola the same day.
Another victim Mike Bwalya, 22, a lorry mate to the deceased driver of the truck, only recalled seeing the van that caused the accident, overtake the Post bus.
"It was raining and it was on a curve, in the process of trying to avoid the Toyota Hilux, my uncle Joseph Kasongo, who was driving the truck lost control and went to hit into the oncoming bus. I cannot remember what transpired afterwards," Mr Bwalya said.
Mr Bwalya who sustained a broken arm, injuries to the head and multiple bruises on his body, said he had joined his uncle and cousin on the trip as they transported mealie meal from Lusaka to the Copperbelt.
And Godfrey Chonde, a pastor, who was at pains to explain what transpired said he was asleep when the accident occurred.
"All I can remember is that I was on top of some bags that were in a truck, and after some time I realised that we had been involved in an accident. I cried to God and the next thing I saw was a white man coming to help me and put me in his van," Pastor Chonde said.
UTH Public Relations manager Pauline Mbangweta said 12 people had been discharged.Ms Mbangweta said there were currently 10 victims, four male and six females that were still receiving treatment.
[Times of Zambia]