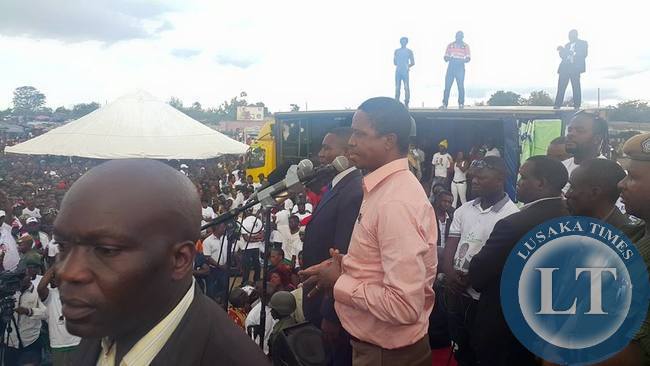 PRESIDENT Lungu has warned that the Patriotic Front (PF) will not adopt non-performing members of Parliament in the 2016 general elections.
Speaking when he addressed a rally to drum up support for PF Chawama parliamentary candidate Lawrence Sichalwe yesterday, President Lungu said he is closely monitoring the performance of PF MPs.
"We want to make the PF strong in memory of our great leader Michael Sata. So, I am taking note of those performing and those [who are] not. Don't be surprised if you will not be adopted in 2016," President Lungu said.
He said President Sata left him a small radio in his office at State House which he uses to monitor debates in Parliament.
"I expected all the MPs of Lusaka to be here at this rally but they are not. I am the one who checks and ticks their register. You have one year to prove yourself. I listen to all the debates in Parliament and I know who says what," President Lungu said.
And President Lungu says long-serving members of the PF must embrace newcomers.
He said President Sata had a forgiving heart and embraced everyone, including those who used to insult him.
"I am not a fool. Zambian politics are nomadic in nature. So, embrace those coming to join us from the UPND and MMD. This is democracy. I assess them as they come to join us. This is meant to make the PF a formidable party.
"Miles Sampa [Deputy Minister of Commerce, Trade and Industry] wanted to be President and so did Given Lubinda [Minister of Agriculture and Livestock] and Chishimba Kambwili [Minister of Information and Broadcasting Services] but they came back to the fold and here we are working together," President Lungu said.
And President Lungu says he will not allow himself to be distracted by his critics.
Mr Lungu says it is surprising that a known newspaper has elected to write negative stories about him everyday for the past seven months.
"Everyday it is 'Chagwa', 'Chagwa'. I would have fallen on him but I am too busy working in order to bring development.
"President Sata left me with work to ensure that the poor are uplifted. President Sata wanted everyone to live well. That was his dream, which I am busy fulfilling," President Lungu said.
President Lungu also said the Road Development Agency (RDA) should give road construction contracts to Zambians so that local people get jobs.
President Lungu, during his address, called Father Frank Bwalya to the podium.
"Ba Father, come and address these people," Mr Lungu said.
Father Bwalya commended President Lungu for his strong stance against tribal politics.
"Tribalism has no room in Zambia. People want leadership. So Your Excellency, leave the job of answering detractors to us," the clergyman said.
Meanwhile, a senior United Party for National Development (UPND) member, Paul Moonga, has joined the PF along with 280 others.
Mr Moonga said he hates the ideologies of the UPND, hence his move to ditch the party.
"Your Excellency, your critics want you to perform miracles in just two months but people are happy with your leadership," Mr Moonga said.
And there was euphoria in Chawama after President Lungu arrived at 15:45 hours.
He disembarked from his convertible presidential Land Rover and walked a distance of over 500 metres in the company of PF Lusaka Province youth chairperson Kennedy Kamba.
People lined up the streets of Chawama for a stretch of more than five kilometres to have a glimpse of President Lungu.
"This is a presidential constituency and we will kolopa [mop] all the votes in honour of President Lungu," said a cadre, who witnessed the President jog.
President Lungu spoke for about 40 minutes.
And President Lungu yesterday made an impromptu visit to the Hellenic Association of Zambia in Makeni after addressing a rally in Chawama.
President Lungu said he had friends before becoming President, hence his visit to the Greeks.
"Thanks for supporting me. That is why I won, I know you still support me. Hellenic community are friends to me just like the Chinese."
"This is the beauty of 'One Zambia, One Nation'. Some of you were born here and this is your home. I am still your friend," President Lungu said.
He said the Hellenic community is an example of how people should live in unity.
[Read 44 times, 1 reads today]