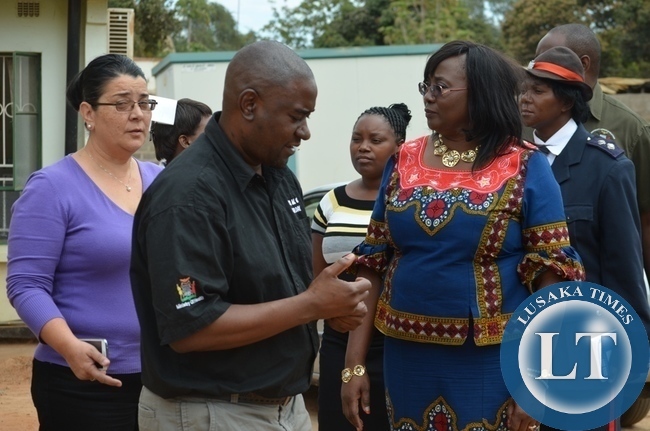 MINISTER of Community Development, Mother and Child Health Emerine Kabanshi says Government intends to increase beneficiaries of the social cash transfer scheme to two million people from the current 148,000.
Ms Kabanshi said in an interview on Tuesday that Government intends to increase the beneficiaries to ensure that more vulnerable people across the country benefit from the scheme.
"Currently, we have 148,000 people in 50 districts across the country receiving K70 on a monthly basis," Ms Kabanshi said
And Government says it is determined to ensure that poverty levels reduce in all parts of the country especially among the women folk who are the most vulnerable in society.
Community Development, Mother and Child Health Minister Emerine Kabanshi says government has the welfare of women at heart as they are also cardinal to national development.
Ms Kabashi was speaking at Community Grounds in Mongu District of Western Province today when she addressed different women empowered groups under the Social Cash Transfer Program.
The Minister explained that the Social Cash Transfer Program is aimed at uplifting the living standard of women so that they are able to fend for themselves and their families adding that the program has changed many lives of people in the province.
Meanwhile, Ms Kabanshi disclosed that government's decision to scale up the Food Security Pack from 2,000 beneficiaries in 2011 to 4,450 in 2014 is an indication of its commitment to reaching out to the people and meeting their needs.
She has since called on Social Welfare and Community Development officers in the district to work hard and make a difference in people's lives as change should be seen at the grass root level.
Ms Kabanshi however urged the officers to be inclusive in the manner they are giving out funds in order to ensure that all vulnerable persons benefit from government's program.
And speaking on behalf of the beneficiaries Penlope Mukelabai thanked government for responding to the cry of the women as they no longer depend on men for survival and are able to sponsor their children in school.
The Minister is on tour of the Western province to inspect the beneficiaries of the Social Cash Transfer Program and is scheduled to visit Senanga, Mulobezi and Sesheke districts.