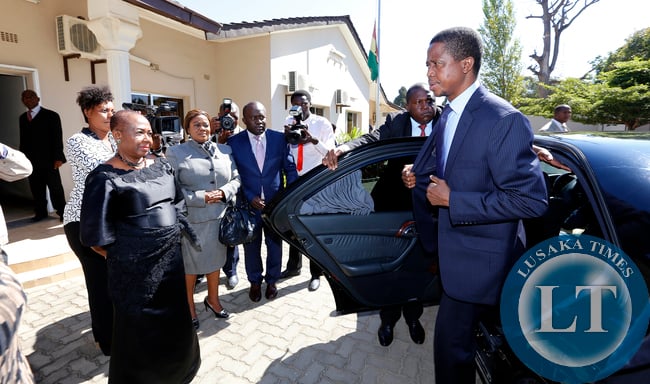 President Edgar Lungu is, today, expected to join other African leaders in Johannesburg for the 25th Assembly of Heads of State and Government of the African Union scheduled to take place from 14th to 15th June 2015 in Johannesburg.
This is according to a statement issued yesterday by Nicky Shabolyo, press secretary at the Zambian mission to South Africa.
The President will be accompanied by First Lady, Mrs. Esther Lungu, who will attend the Organisation of African First Ladies Against HIV/AIDS (OAFLA) meetings which have been arranged on the margins of the Heads of State Summit.
Foreign Minister, Hon Harry Kalaba, Deputy Finance Minister, Hon Chris Mvunga, Gender Minister, Hon Nkandu Luo and Justice Deputy Minister, Hon Keith Mukata travelled ahead of the President for pre-Summit meetings.
The Summit which has been preceded by the 30th Ordinary Session of Permanent Representatives Committee (PRC) on 7th June, 2015 and followed by the 27th Executive Council from 10 – 12 June, 2015, is being held under the theme: "Year of Women's Empowerment and Development towards Africa's Agenda 2063".
Outgoing Zambian High Commissioner to South Africa, Mr. Muyeba Chikonde and Zambia's Permanent Representative to the AU, Ambassador Susan Sikaneta, confirmed President Lungu's attendance of the Summit where the Zambian Head of State was selected to represent the Southern African region in a facilitated panel discussion on the Theme. The Summit will also address, in closed session, other topical and strategic issues as well as adopt the Implementation of the First Ten Year Plan towards the Agenda 2063 programme.
The African leaders will also discuss the streamlining of the AU Summit and working methods, as well as procedures of the African Union, with the view to having the organisation run more efficiently and effectively.
President Lungu is also expected to hold bilateral talks with his counterparts from various African and Observer countries, as well as Senior Representatives of some international organizations, including the UN Women, who have identified President Lungu as one of the leaders to feature in a television documentary which will focus on women issues.
[Read 31 times, 1 reads today]