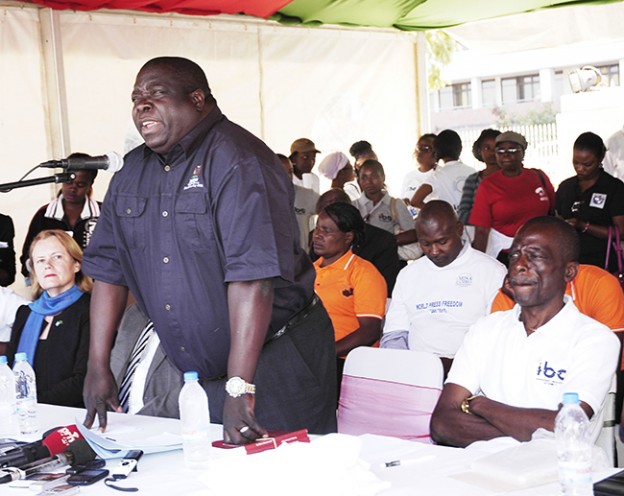 THE Government has dismissed media reports that President Edgar Lungu was insulted and booed by soccer fans during a football match at Heroes national Stadium on Tuesday evening.
Chief Government Spokesperson Chishimba Kambwili said the story by the Post Newspaper in yesterday's edition that President Lungu was booed by
soccer fans following a power outage which was experienced soon before and minutes into the friendly match between Zambia and Gabon was a lie.
"This is a grotesque lie which all well meaning Zambians should ignore with the contempt it deserves," said Mr Kambwili in a statement released yesterday.
Mr Kambwili said contrary to the allegations, President Lungu and his
Government had continued to enjoy national wide support as evidenced by victories in 2015 presidential election and seven parliamentary by-elections since January.
He said it is worth noting that the proceedings at Heroes National Stadium were carried live on the Zambia National Broadcasting Corporation (ZNBC) from start to the end save for brief moments when transmission was disrupted by power outage.
Mr Kambwili who is also Information and Broadcasting Services Minister said the Government was however not surprised that the so called insults were only heard by the newspaper with a well known anti-government agenda.
He said Zambians have shown that they are politically mature who would not use such a forum to engage in petty politics.
"Government also wishes to advise John mambo to be truthful and Christ-like in commenting on national issues.
"He should concentrate on preaching the Word of God instead of hiring himself as a vuvuzela to The Post Newspaper," Mr Kambwili said.
The Chief Government spokesperson warned that he would be left with no option but take action against the newspaper if it continued to mislead the nation and publish hate speech.
"I further wish to warn The Post newspaper that if it continues to mislead the nation, publish hate speech and engage in misinformation against the Government, I will be left with no option but to take action which the newspaper will leave to regret," Mr Kambwili said.
The Government reiterated its commitment to deliver on its promises and no amount of lies, concoctions and innuendos would sway it from achieving its mission.
Mr Kambwili has also directed all Government institutions and other public spending agencies to immediately stop advertising in The Post because of the newspaper's
confrontational stance against the government.
[Read 17 times, 1 reads today]