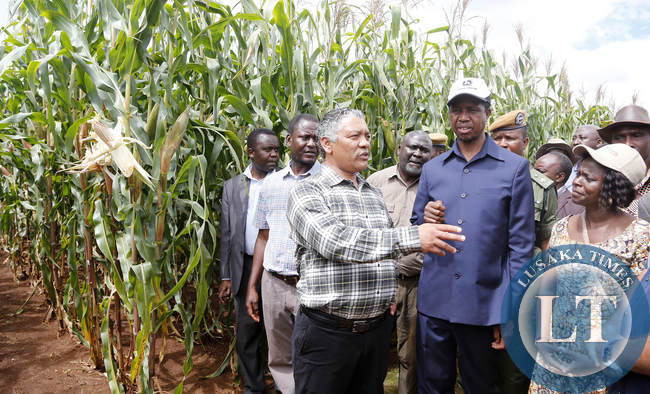 GOVERNMENT says the decline in allocation to the Ministry of Agriculture in the 2016 Budget allocation has been necessitated by the ongoing massive infrastructure development such as construction of roads and bridges taking shape throughout the country.
In the 2016 budget, the Government has allocated to spend K1 billion to the agriculture sector down from K1.1 billion which was allocated in the 2015 budget.
Speaking during the Indaba Agricultural Policy Research Institute (IAPRI) budget breakfast meeting in Lusaka yesterday, Agriculture Minister Given Lubinda said a lot of money had been allocated to support infrastructure development as a result funds allocated to other sectors were reduced.
Mr Lubinda, however, said one million farmers were going to benefit from the Farmer Input Support Programme (FISP) out of which 759,000 would benefit from the convention way while 241,000 would access their farming inputs through the newly introduced E-voucher system.
Mr Lubinda urged Members of Parliament to sensitise small scale farmers in their various constituencies on the importance of accessing inputs through the E-voucher project.
He said the average subsidy across the crops for the 2015/2016 agricultural season would be 72 percent compared to 66 percent in the 2014/2015 season.
Mr Lubinda further said the Government was going to allocate one million hectares of land to farmers venturing in agriculture so as to enable them produce more maize and hence reduce poverty among the people.
Mr Lubinda bemoaned the high cost of fertiliser on the market and urged the traders to reduce the price of the commodity as this would have a negative effect on next year's harvest.
Some traders in some parts of the country are reportedly selling a 50 kilogramme bag of fertilizer at over K350.
Mr Lubinda said also that millers were free to sell their mealie-meal outside the country if they had surplus stocks beyond what the local market could consume.
And in his presentation, IAPRI research analyst Auckland Kuteya commended Government for introducing the E-voucher pilot, saying the project would provide small-scale farmers a wider choice of inputs and promote agricultural diversification.
''The E-voucher pilot would also increase private sector participation in input market, timely supply of agricultural inputs which would result in greater economical multi-supplier effect'', Mr Kuteya said.
Mr Kuteya recommended among other things the increase in funding to the fisheries and livestock departments and improved timing of budget releases and limitation of the Food Reserve Agency (FRA) in maize market.
He further called on Government to uphold the Maputo Declaration of allocating at least 10 percent of public expenditure to the agricultural sector.
[Read 25 times, 1 reads today]