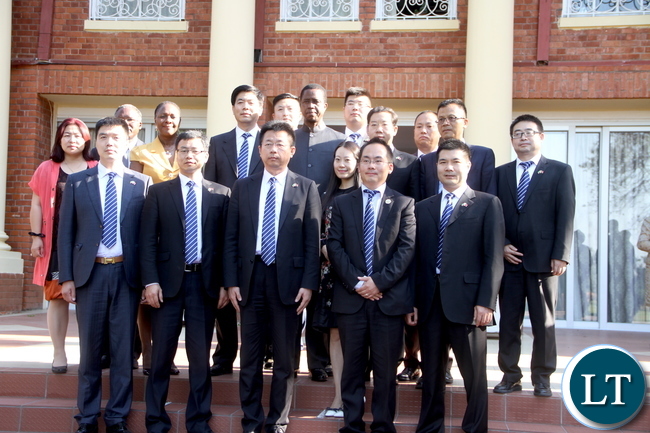 DEPUTY Inspector-General of Police for administration Malcom Mulenga has assured the Chinese community in country of increased security for their businesses.
Mr Mulenga has, however, warned Chinese nationals who are conniving with Zambians to commit crime to desist from doing so.
According to statement made available by Zambia China Association (ZCA) president, Zhang Jian, Mr Mulenga noted that the Chinese have brought enormous investments to the country and assured them that their businesses will operate in a conducive environment.
Mr Zhang said Mr Mulenga issued the statement in a meeting between senior police officers and ZCA.
"We also understand the challenge of security that you face as foreigners, hence the need for us to work together to ensure that you operate in a safe environment,'' Mr Mulenga said.
He said the meeting demonstrates police's resolve to work with ZCA.
However, Mr Mulenga advised some Chinese nationals to be security-conscious so that they are not abused by some 'disgruntled' Zambians.
"You should always have police escort when taking huge sums of money to the bank. Do not brag whenever you are in public places of how much money you make or have because criminals will take advantage of you and attack you.
"Let me also caution that Chinese nationals that are conniving with Zambians to engage in criminal activities should stop this dangerous trend," Mr Mulenga said.
He also cautioned Chinese nationals against flashing money at road blocks.
And Mr Zhang said his organisation will ensure that Chinese nationals doing business in Zambia abide by labour laws.
"We realise the good relationship that the two governments have enjoyed over years and so as ZCA, we shall take advantage of this situation to grow these relations as well as enhance business interests,'' he said.
Mr Zhang said it is only a few disgruntled Chinese nationals who are involved in criminal activities.
He said ZCA will work closely with the police so that the safety of its members and business interests are secured.
Mr Zhang said they are happy to operate in Zambia because of the country's politically stability and friendly citizens.
[Read 21 times, 1 reads today]