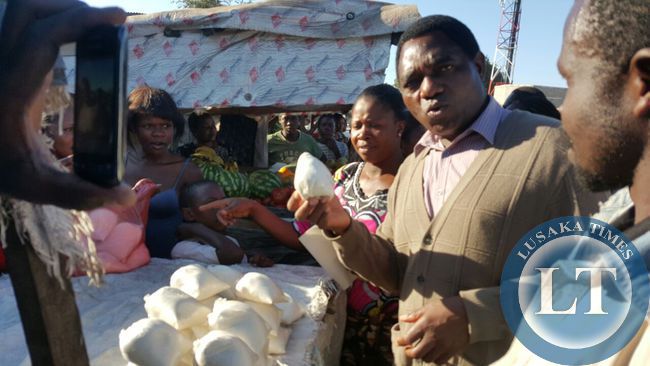 United Party for National Development (UPND) President Hakainde Hichilema has said that the looming hunger in Zambia is because of the PF Government's lack of vision and management skills.
In a statement released to the media yesterday, the UPND leader said that his party warned the PF about the impending adverse weather conditions due to El Nino and the danger of exporting maize, but President Lungu and his Government did not listen
Below is the full statement
OFFICIAL STATEMENT
Solutions to President Lungu's failed maize economics
President Edgar Lungu has said that the chances of importing maize are high in Zambia given the erratic rainfall that we are experiencing. This is not just bad dream. Hunger is looming because of the PF Government's lack of vision and management skills.
The Millers Association of Zambia (MAZ) has warned about an increase in mealie meal prices. Under the PF a 25kg bag of mealie meal has already risen from K50 up to K100. This has been attributed to rising production costs and reduced quantities of the maize grain on the market. Yet President Lungu, through his Minister of Agriculture Given Lubinda, repeatedly assured the nation that there was a bumper harvest with enough maize for exports.
Even at that time we warned the PF of the mistake they were making by offering farmers 75 Kwacha per bag (1500 Kwacha a ton or US$120 at the current exchange rate). We warned them that informal traders had found a market which was offering them up to US$200/ton, leading to massive exports by both formal and informal means, which apparently the PF encouraged. So while the food national balance sheet looked good on paper, had President Lungu and his PF Government listened to those warnings they could have seen how exports would lead to reduced maize grain availability. This failure to pay attention, heed warnings and plan ahead cannot be blamed on nature and God, as Lungu is trying to imply again. In fact, as UPND, we even warned the PF about the impending adverse weather conditions due to El Nino. Nature and calamities will always be there, that is why people build houses that insulate themselves from nature.
Having issued a warning of the hunger and food insecurity to come after observing the PF's recklessness of encouraging large quantities to go to exporters rather than the FRA, we also moved to provide solutions and advice to the PF Government, including in a statement to the media on July 22, 2015.
"We are currently being told the country is exporting huge quantities of maize to neighbouring countries in order to clear stocks for last season. Exporting of such produce as maize grain is the problem we have been talking about because we don't do any value addition.
Our alternative policy, if indeed we have too much maize, would have been to encourage exporting of finished maize products such as mealie meal and feedstock etc. We need to encourage milling companies to grind more maize grain for export earnings. From maize milling, which is value addition, there are also lots of other by-products such as feedstock for our animals.
In short when we export maize grain, we also export a lot of other products which in turn finds it's way back into Zambian market as imports of our own products and in the process contribute to the Kwacha's fall".
Given that the weather forecast for this farming season, as we warned, was that of El Nino, President Lungu and his Government should have prepared for the worst. We are now faced with a situation where Government has failed to secure food despite early calls for remedial measures.
We are now concerned how the majority of Zambians will survive given the ever rising cost of living and redundancies both in the mining sector and other industries that are buckling due to increased costs of production and load shedding.
The PF has let the Zambian people down by failing to address the situation before people go hungry. They must now apologise and take responsibility for delivering lasting solutions, and not bury their heads in the sand while Zambians suffer.
In short, we repeatedly warned the PF Government not to export maize before ensuring the country had enough stock. They have not heeded, and as we speak maize is being exported out of the country in large quantities.
Surely it is not rocket science to know that we have to secure our stocks before exporting to avoid such a shortage, as well as to develop value addition industries in order to improve the standard of living for Zambians.
Hakainde Hichilema
UPND President
[Read 16 times, 1 reads today]